Right Wing Trolls Trash A Small Business — For Welcoming Obama
September 11th, 2012 10:40 pm Henry Decker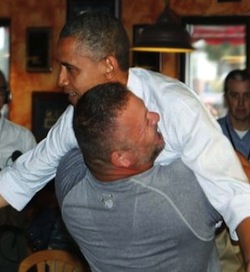 Scott Van Duzer, the Florida restauranteur who lifted President Obama off the ground in a bear hug when Obama visited his pizzeria on Sunday, thought that he was just creating a lighthearted photo-op. Unfortunately, Van Duzer underestimated how rabidly the right-wing fringe hates the president.
Republicans have organized a boycott of Big Apple Pizza because Van Duzer had the gall to greet the President of the United States. Additionally, legions of right wingers have flooded Big Apple Pizza's Yelp page with hundreds of negative reviews, ranging from insults about its pizza to outright racist attacks against Obama. … Read More and see the hate filled comments.
These are likely the same ill-informed lunatics that listen to Right-Wing talk radio to fan their hate and fear. Here is an example of what the right-wing talkers are saying.
I don't know that there is any connection between what I'm about to write about and Mitt Romney's risky and clumsy attacks on the president over the events in Cairo and Benghazi, but it does make you wonder….
Here in its entirety is Dylan Byers' Politico post late yesterday on a new batch of threats from leading conservative gabbers that a loss on November 6 would justify a dissolution of the GOP:
 Leading conservative talk show hosts Rush Limbaugh and Laura Ingraham are both arguing that the Republican party will or should be shut down if Mitt Romney loses in November — an idea that, however hard to believe, gives you an indication of the right wing's dissatisfaction with the Republican party. Read more
It would probably be good for the country if  the "Tea Party," or whatever they wish to call themselves, would leave the Republican party. If they did not want to form their own structure, they could try to take over the Libertarian Party giving us a viable three-party system. After all, the Tea Party financiers, the Koch Brothers are Libertarians. Still, the Libertarians might not welcome what appears to be a hate group into their midst.

Print This Post