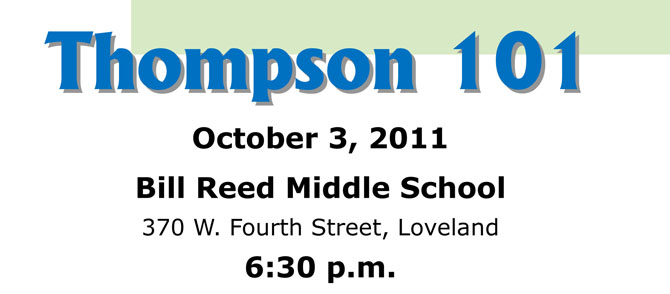 The Thompson School District will host a board of education candidate forum, information booths and breakout sessions providing information about the Thompson School District. The event, labeled "Thompson 101," will be presented by the Board of Education and staff on October 3 from 6:30-9 p.m. at Bill Reed Middle School, 370 W. 4th Street in Loveland
The event will start in the Bill Reed cafeteria with information tables about the workings of Thompson School District Topics include: open enrollment, early childhood programs, how to get involved, family engagement, transportation, purchasing, and facilities rental and usage.
A series of six breakout session will be conducted between 7 and 7:30 p.m. and will be repeated from 8:30 to 9 p.m.
There will also be a forum from 7:30-8:30 p.m. in the auditorium that will include school board candidates
Board members Janice Marchman and Leslie Young suggested Thompson 101 to introduce the many facets of the school district to parents and the community. It is modeled after a similar event in Poudre School District.
Refreshments will be for sale through the Bill Reed Loveland area Integrated School for the Arts LISA students. LHS Key Club members will serve as hosts along with members of the Board of Education. Child care will be provided.

Print This Post