By Sandy Barnes
Berthoud Recorder
For those who enjoy a glass of wine with their evening meals, or at a party with friends, there are many inexpensive and interesting organic varieties to consider.
Why choose organic you might ask. One of the primary reasons people buy organic wine is that the grapes used to produce it are free of pesticides, herbicides and fertilizers, and have minimal sulfite content. Like many other fruits with high sugar content, conventionally grown grapes are high on the list of those treated with chemicals, which can make their way into wines. Another consideration is sulfite content. While some levels of sulfites naturally occur in the wine making process, extra amounts are not added as a preservative to many organic wines.
Organic wine producers also claim that their products are more flavorful than conventional ones because of their purity. With the stringent UDSA organic standards to meet, domestic wines offer the assurance of quality ingredients and low amounts of sulfites.
Among a wide selection of California varieties are wines from Hallcrest Vineyards, which are marketed with the colorful Organic Wine Works label. One of the more notable and inexpensive selections is à Notre Terre, a relatively dry red table wine with cherry and blackberry flavors that sells for about $12 per bottle.
Also in California is Orleans Hill Winery, which offers many white and red wines priced under $10 a bottle. One of its least expensive is called "Our Daily Red." A plain red table wine that goes well pizza and other Italian food, "Our Daily Red" has no detectable sulfites, according to its label.
Badger Mountain Vineyard in Washington State offers a wonderful organic Riesling with subtle notes of peach and nectarine enriching its flavor. On its label is the N.S.A. designation, with stands for "no sulfites added."
When buying organic wines, one thing you may notice is that many, like Badger Mountain, have screw caps rather than corks. According to organic wine producers, screw caps preserve the wines better than corks and keep them from oxidizing. As many purveyors of wine will tell you, organic wines are less stable than conventionally produced ones because of their low sulfite content. Storing them carefully is a good idea, especially after opening the bottle.
News Image: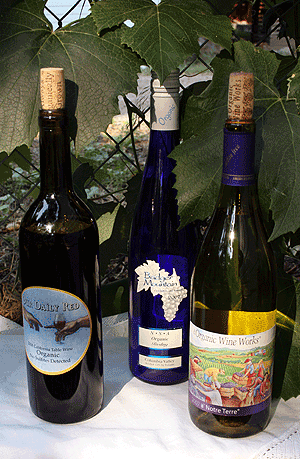 Long Description:
<p>These three organic wines are flavorful, low-cost choices for those who would like to try varieties made with pesticide-free grapes and a minimum of sulfites.</p>
Category Lead:
Category Primary Featured Story

Print This Post