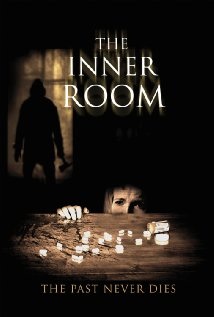 An Independent Film by Red Giant Productions
By Thomas N.
The Inner Room is one scary movie. A creepy premise, a plot filled with scary distortions, and distinctive filming adds to the spookiness of the movie. To top it all off, the film is shot entirely in Colorado.
An out-of-sync couple visits a remote cabin with the intention of spending time together to work on their relationship after the tragic loss of their child. As husband Chris, (Marty Lindsey) focuses on his photography the audience is quickly introduced to Julianne's (Jessica Duffy) horrifying visions. Chris believes Julianne is loosing her mind. The story continues as she tries to prove her sanity before it is too late. The plot is difficult to predict which enhances the eeriness of the story. The movie is elusive with meanderings between Julianne's visions and reality providing the audience with an unexpected and unpredictable experience with each second of viewing.
The plot is carried exceptionally well by both Lindsey and Duffy. Julianne's misery is well portrayed by Duffy and becomes real to audiences as her physical depiction of experiencing apparent pain during her visions was perfectly timed with powerful sound effects that would put any viewer on the edge their seat in sympathetic despair. Despite Duffy's anxiety of the horrors she sees, her strength to determine the underlying agony she is going through, pushes her to seek answers. Her husbands' complacency and lack of faith in Julianne is well-played by his frustrations with her pursuit of truth. All of these high-leveled emotions, physical trails, and psychological tensions are contradicted by the sereneness of the mountain landscape, running rivers, and quiet forest. There is extreme contrast in sound and sight.
The Inner Room is an independent film with a lower budget than most movies. With fewer special effects than a big budget horror, filmmaker Jack Gastelbondo makes-up for this by using interesting filming techniques. Multiple lens filters are used; blue, brown, grainy, B&W and washout filters all get a chance to make the movie unique. There is also a liberal use of shaky cam, quick cuts, sloppy cuts, and piercing sound effects. The combination of lens, sound effects and editing provides the viewer the sensation of another coming horrifying vision which produces anticipation in helping to continue the films suspense. The sound direction and quick cuts are fondly reminiscent of Stanly Kubrick's The Shinning.
This independent thrill ride premiered at The Vail Film Festival on the 31 of March entertaining and scaring audiences. Both Gastelbondo and Mark Diestler the films producer were in attendance at the festival and provided a Q&A after the showings.
Cast & Crew
Director:  Jack Gastelbondo
Writer:     Jack Gastelbondo
Cast:
David Dalton
Jessica Duffy
Kristin Keating
Marty Lindsey
Run time:  82 minutes

Print This Post