By Shari Phiel
Berthoud Recorder
Recent Berthoud High School graduate Brandyn Wahlert, 18, plead guilty to third-degree assault charges filed by the Larimer County district attorney's office earlier this year. Wahlert appeared before Judge Peter Schoon for June 25 hearing at the Loveland County Court.
Wahlert was originally charged with four counts of third-degree assault, but the Larimer County District Attorney's Office subsequently dismissed three of the charges. The charges stemmed from incidents at the high school in November and December of 2008.
The incidents, described by Dawn Downs, deputy district attorney for Larimer County, as "hazing activity," occurred while Wahlert was a senior at BHS. When asked by Judge Peter Schoon why the charges did not include sexual assault charges, DDA Downs replied, "I did discuss this case with my office, and I don't believe it was done by the defendant in a sexual nature."
DDA Downs also stated, "Hopefully Mr. Wahlert, being young, learned that this in not appropriate behavior, and he can be a successful member of society from here on out."
The Larimer County judge also asked Wahlert how many other individuals participated in the hazing activity, to which he responded, "Between 15 to 20." Judge Schoon then asked how many others had been charged to which Wahlert said, "None. I'm the one that was over 18."
Wahlert received a deferred sentence of 18 months with 48 hours of "useful public service" to be served within 120 days of the hearing. Upon completion of the 18 months, the prosecutor's office will review Wahlert's file for compliance. Wahlert can then petition the court to remove the charges from his record.
If he fails to uphold the conditions of the deferred sentence, Wahlert could face fines of $500 to $1,000 along with six to 24 months of jail time. He was also ordered to report to the Larimer County Sheriff's Office for fingerprinting within 10 days and to also contact the Larimer County Sentencing Unit.
News Image: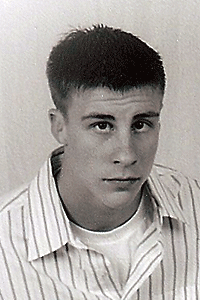 Long Description:
<p><span style="font-size: small;"><span style="font-family: arial,helvetica,sans-serif;">Brandyn Wahlert</span></span></p>
Category Lead:
Category Primary Featured Story
Home Lead:
Home Page Secondary Featured Story

Print This Post