By Jenny Anderson
Berthoud Recorder
A little log cabin lies on the south bank of the Little Thompson River. In 1869, James Eaglin applied for a homestead patent on 160 acres and this little cabin was likely among the required improvements. The patent was granted June 15, 1874. Eaglin grew wheat, the first grain crop of the Little Thompson valley but later sold his farm to John C. Ish in 1875. Eaglin then went to North Park, where he reengaged in mining. He drowned attempting to ford the Eagle River.
Ish came to Colorado with 150 selected heifers, forming the foundation of his herd. From 1875 to 1890, he farmed in the Little Thompson valley and then moved his cattle to North Park in 1881. A few days after purchasing the farm in 1875, Ish sold half the land to brother-in-law, John W. Everhard, who engaged in farming and stock raising with Ish. In 1880, Everhard moved to a big stock ranch in North Park. He sold his North Park ranch in early 1908, when he returned to Berthoud, where he and his wife lived in their retirement.
When the senior Everhard moved to North Park, son John B. Everhard stayed on the Little Thompson utilizing modern equipment and progressive methods of farming and cattle and sheep production. His father deeded the farm and other lands to him in 1898. He sold his livestock in 1917, but retained ownership of the farm. He later sold his farm to Roy Welty in August 1937. After retiring, he lived in Berthoud and then Denver, where he died in 1941. He never married.
After graduating from high school in 1914, Roy V. Welty joined his father on a farm northeast of Berthoud, where they fed beef cattle and raised purebred Aberdeen Angus cattle. In 1937, Welty purchased the Everhard farm, where he moved his cattle and the house and barn from his mountain ranch. After selling the Angus herd in 1942, Roy and his sons fed and fattened beef for slaughter. After World War II, they began dairying in addition to feeding hogs and sheep and breeding and selling dairy heifers in the United States and Mexico. The Welty's retired and moved to Longmont in 1960, but continued to own and rent out the farms. Welty sold the Everhard farm in December 1970.

Edward and Irene Lempka met during World War II, while working in a bomber plant at Fort Crook. He worked on the line and she worked in the office. His boss was dating her sister; they wanted to go to a dance and each needed someone to go with them, so they recruited Edward and Irene, who danced all evening, even though he had brought his girlfriend with him! After they married, they moved to a farm near Mead. They purchased the present farm in January 1971. They raised 50 to 80 head of cattle, wheat, corn, and grass hay. They continue to live on the farm in their retirement.
The farm buildings reflect the adaptability of farmers. Moved here by Roy Welty, the gable-roofed barn is the east end of four attached buildings; each has been modified over time. The barn is set on a concrete foundation and has a concrete slab floor. The barn once had a full loft. The hay crane rail and the rope used to pull hay through the huge hay door still hang from the roof peak. The guts of the barn were removed, possibly when it was moved. Steel beams and wood cross beams replace the structural support provided by the removed loft. Ed Lempka removed most of the south wall, so large tractors could be repaired inside.
The shed to the west had a concrete floor and stanchions for the Welty's dairy operation. The stanchions and the concrete edge to the feed trough have been removed. The building contains the tools required for tractor and farm machinery repair.
The gable-roofed building attached to the milking parlor is open to the south. It has a concrete slab floor and provides storage for various pieces of farm equipment. A gable-roofed structure is attached to the north wall of the gable-roofed building. Refrigerated tanks in this two room structure cooled milk before pickup by the milk truck.
Other farm related structures reflect changing farm activities. Cattle and sheep were fed in the huge feed lots later used as corrals, grain was stored in granaries now used for storage, and vehicles and equipment were stored and repaired in numerous sheds, some of which once housed livestock.
News Image: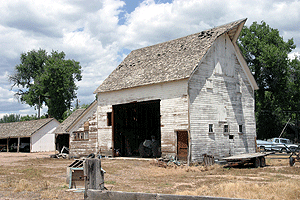 News Image: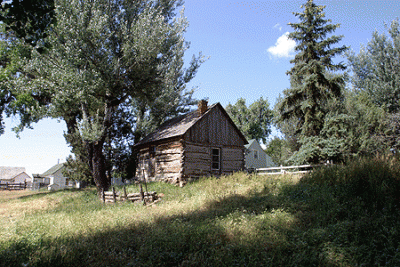 Long Description:
<p>Modified barn and attached sheds.</p>
Long Description:
<p>This cabin, likely built by James Eaglin around 1870, is visited by classes of Berthoud third-graders studying local history.</p>
Category Lead:
Category Primary Featured Story

Print This Post