Teachers honoring teachers, that is what the Thompson Education Association Crystal Apple Awards are all about. The award ceremony on Friday, April 22 honored Thompson School District teachers for excellence. Twenty-three teachers were nominated for the Crystal Apple Awards which were presented to three educators, one elementary, one middle school and one high school teacher.
The nominations for the Crystal Apple Award come from other teachers at the school with input from students as well. All the teachers feel that being appreciated by your peers is a special honor. Nominee Susan Harding put it this way, "It makes you feel valued."
Each nominee received a "Crystal Apple" memento of their nomination. The apples are supplied by The Horace Mann Insurance Company which sponsors these awards. Local agent Susan Krantz and TEA president Lauri Shearer handed out the mementos of the occasion.
The final awards, as chosen by the Crystal Apple Committee, includes a check for $250 and the recipients were admonished to spend it on themselves, not on classroom supplies.
The recipients of the Crystal Apple Awards were; Jeanne Ann Steffans, Namaqua Elementary; Jaymie Cruickshank, Walt Clark Middle School and Ann Gonzales, Berthoud High School.
Berthoud High School principal, Chris Garcia was quick to point out that in the ten years of the Crystal Apple Awards, five of the recipients have been from Berthoud High School.
Congratulations to all the nominees.
The list of nominees.
Elementary school teachers
Linda Mirich, Berthoud Elementary, Teaching 31 years
Becky Bice, Big Thompson Elementary, Teaching 18 years
Ann Aggers, Carrie Martin Elementary, Teaching 36 years
Emily Yenny, Coyote Ridge Elementary, Teaching 6 years
Linda Pickert, Ivy Stockwell Elementary, Teaching 16 years
Susan Harding, Mary Blair/Ponderosa Elementary, Teaching 25 years
Linda Foutch, Monroe Elementary, Teaching 36 years
Jeanne Ann Steffens, Namaqua Elementary, Teaching 31 years
Gretchen Toso, Sarah Milner Elementary, Teaching 24 years
Karri Ham, Stansberry Elementary, Teaching 29 years
Mimi Ordonio, Van Buren Elementary, Teaching 12 years
Middle school teachers
Debbie Menken-Baca, Bill Reed Middle School, Teaching 29 years
Michelle Logan, Erwin Middle School, Teaching 20+ years
Sue Teumer, Erwin Middle School, Teaching 19 years
Joan Gibbons, Turner Middle School, Teaching 25 years
Kristi Leonard, Turner Middle School, Teaching 27 years
Jaymie Cruickshank, Walt Clark Middle School, Teaching 14 years
High school teachers
Ann Gonzales, Berthoud High School, Teaching 23 years
Bob Jantzen, Ferguson High School, Teaching 30 years
Barbara Engle, Loveland High School, Teaching 34 years
Mary Manion, Loveland High School, Teaching 28 years
Rob Porzycki, Thompson Valley High School, Teaching 18 years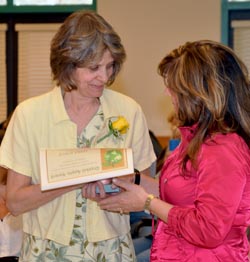 Linda Mirach, Berthoud Elementary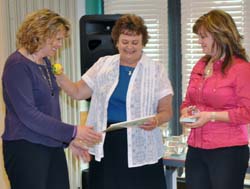 Linda Pickert, Ivy Stockwell Elementary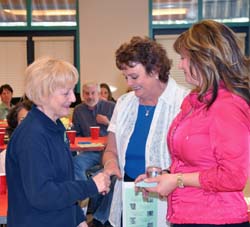 Joan Gibbons, Turner Middle School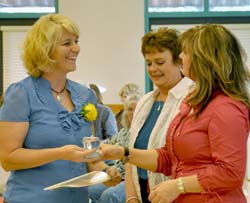 Kristi Leonard, Turner Middle School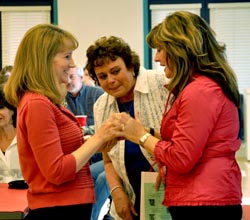 Ann Gonzales, Berthoud High School

Print This Post