ALEC Members Refuse to Sign a Pledge Supporting Democracy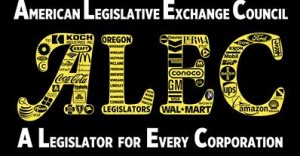 It is fair to assume that America is host to an incredibly ignorant population who know very little about their government and how it affects their daily lives. That sad fact was exposed in a brilliant 2008 book revealing that only 20% of the population can name the three branches of government and 49% think a president has the authority to suspend the Constitution. However, the population's ignorance of their government aside, it is highly probable that every American supports democracy; unless they are members of the American Legislative Exchange Council (ALEC). To Americans aware of ALEC and its intent to create a corporate oligarchy and privatized government, it is not surprising that if ALEC members were asked to sign a pledge to support democracy, they would refuse, and that is precisely what happened in a little-reported story last week.
Last Thursday while ALEC was holding its annual meeting in Washington D.C., a group of working family activists, AFSCME, the Postal Workers union (APWU), AFT, and Jobs with Justice appeared at the meeting and asked ALEC members to sign a pledge "upholding the will of the people and support democracy, or leave their states." The people at ALEC's meeting did not sign the pledge and corporate-controlled media did not report the event because a revelation that an organization dedicated to serving corporate interests represented by the Republican Party refusing to support democracy would not play well with the public. In fact, for about 30 years ALEC has quietly been dismantling America's democracy while hiding in the shadows, and it is just recently that a very tiny minority of the population even know ALEC exists.
Those Americans who know about ALEC and the Koch's assault on democracy are rightly incensed that a small number of very rich Americans are responsible for authoring legislation robbing Americans of their rights and freedoms with a view towards government by corporate oligarchy. The anger at the people behind ALEC such as the Koch brothers, Wall Street, and …

Kevin Lundberg receives award from ALEC

Print This Post