The Thompson Education Association (TEA) gathered at Loveland's Chilson Center on Friday afternoon for the ninth annual Crystal Apple Awards. This year 16 teachers were nominated by their peers for their teaching excellence.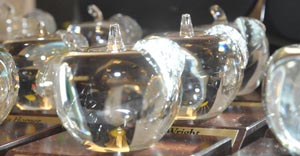 The awards are given by the TEA with financial assistance from Goodwin Financial and Horace Mann insurance. The insurance company also provides the crystal apples.
During a social hour before the presentations, the group enjoyed a buffet dinner and listened to the music of Loveland High School's award winning Wind Symphony Band, directed by Mathew Arau. The tuxedo and evening dress clad orchestra played a variety of numbers and featured solos by the Brass Quintet and the Clarinet Quartet.
TEA President, Laurie Shearer, opened the presentations by relinquishing the floor to Superintendent Dr. Ron Cabrara who surprised Shearer by presenting her with her 25-year award.
Each nominee receives a Crystal Apple, however, one nominee at each school level is chosen for a special certificate and monetary award of $250.
Two of the evening nominees taught a Berthoud Schools.
Janice Wright teaches art at Ivy Stockwell and Berthoud Elementary Schools.
Her nomination stated: "According to a student. " She always chooses very fun, and creative projects, but she also puts a challenge in our art pieces that we have to do." Janice provides one on one modeling and instruction for individual students and has students brainstorm ideas for class projects. Through Janice's instruction and encouragement, student artists have grown and blossomed at Ivy and Berthoud El.
Berthoud was represented at the High School level by Carin Barrett. Her narrative says; Carin makes modern issues and events as meaningful and real to her students as possible. For example, last year during the Presidential election, Carin operated a blog with all 150 of her students, discussing issues, thinking about political campaign tactics, and facilitating a variety of other activities connected to democracy and elections.
She also invited the staff, student's parents, people across the district, and any other people in her network of friends and family to participate, so that the students saw what civil discourse really is and understood the importance of it in the nation's democracy.
Barrett was also selected as the top person at the High School level. After receiving her award she said, "It is a great honor to be given the award, but it is even more of an award to hear all the great things that just 16 teachers (the number of nominees) are doing and thinking about and how much that is actually multiplied by all the wonderful teachers in our district. Collectively, we are making an enormous difference, and that is so encouraging."
[imagebrowser id=72]

Print This Post