By Laurie Hindman
Berthoud Recorder
Renowned public artist Rafe Ropek created the 14 medallions adorning Mountain Avenue's street corners. Ropek's artwork can be found throughout the state of Colorado as well as many other areas of the United States including Utah, Texas and Pennsylvania.
Some well-known Colorado pieces are the "Sun Fountain" at the Municipal Center in Aurora, the Colorado Symbols fence at the State Capital in Denver and benches and railings for T-REX light rail also in Denver. And anyone visiting the Loveland Public Library can't help but be captivated by the "Harmony of Chaos," a 16-foot long hanging kinetic sculpture of books, CDs and magazines twisted in the design of the infinity symbol, which rotates in the main entrance.
The medallions are the first permanent artwork Ropek has done for Berthoud, who was approached for the project by the Berthoud Main Street committee. Director Eric Boyd said the committee was looking for somebody local who would have not only the talent, but also the appreciation for Berthoud's unique heritage. Ropek fit the bill perfectly. He not only designed the medallions, but the bulb outs including the sandstone colored concrete that surround the medallions.
"He has the history of being nationally recognized for public art and a high degree of creativity," said Boyd of Ropek. "Rafe is also able to adapt to the circumstances; we wanted something simple and functional that would bring in a historical element. He was able to create that beautifully."
To establish that historical connection Ropek looked at the metal work of A.G. Bimson on display at the Berthoud museum. Bimson ran a forge and blacksmith shop in early Berthoud history and created useful, yet artistic pieces that still turn up in old homes and barns throughout the area.
Ropek was also asked to design the decorative light posts. "I wanted a unified work. The design in the lights needed to be cohesive with the bulb outs. The goal was to create a pleasant, downtown environment that reflects the character of our town."
Ropek said the medallions will eventually show signs of wear, but that wear will only "patina them nicely," adding to their appeal.
Recently, a few of the medallions have been marked by bike tires — created by what appears to be intentional skids. "It's disappointing," said Boyd. "The medallions are a new heritage for the community. I would hope that everyone would help protect and preserve these marvelous additions to our town." Boyd noted the medallions do have a protective coating and that the tire marks will hopefully disappear after enough rain and snow.
Boyd also said he has received an overwhelmingly positive response on the medallions and the new look of the downtown area. "Almost everyone I have spoken to is pleased with the results." He went on to add, "We were fortunate to have an artist like Rafe right here in our community."
Ropek said it was a pleasure working the Main Street Committee and the Town. "I was very flattered that they asked me to do the project." He also said it was in his interest to create something special. "I live here," pointed out Ropek. "I have to do a good job."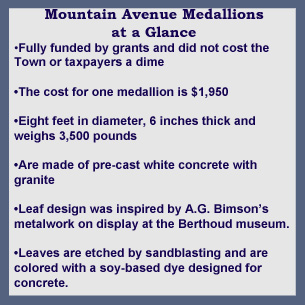 News Image: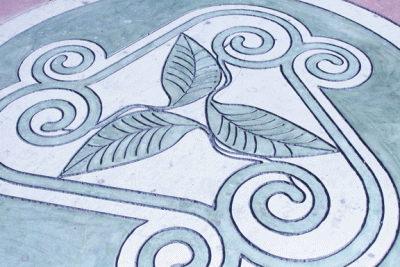 News Image: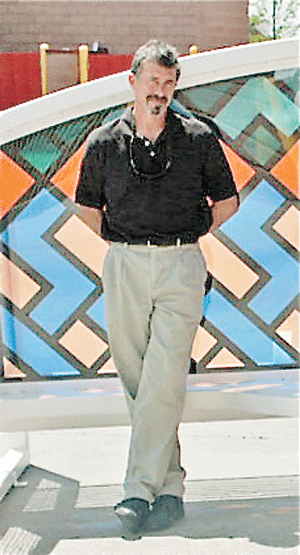 News Image: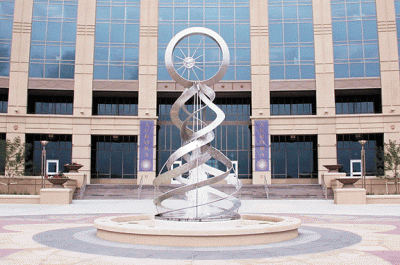 News Image: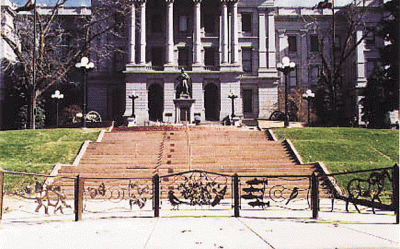 News Image: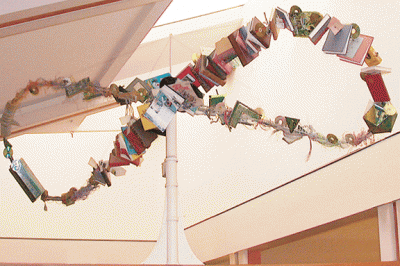 Long Description:
<p><span style="font-size: small;"><span style="font-family: arial,helvetica,sans-serif;">Rafe Ropek created the medallions and concrete bulbouts located on 14 Mountain Avenue street corners, as well as the patterned light posts.</span></span></p>
<p><span style="font-size: small;"><span style="font-family: arial,helvetica,sans-serif;"><br /><br /> </span></span></p>
Long Description:
<p><span style="font-size: small;"><span style="font-family: arial,helvetica,sans-serif;"> Public artist and Berthoud resident Rafe Ropek stands before one of the windscreen benches Ropek made for T-REX light rail in Denver. </span></span></p>
Long Description:
<p><span style="font-size: small;"><span style="font-family: arial,helvetica,sans-serif;"> The &ldquo;Sun Fountain&rdquo; located outside the Aurora Municipal Center is polished stainless steel with a suspended blown glass ball suspended in the ring. It incorporates a fountain and fogging device.</span></span></p>
Long Description:
<p><span style="font-size: small;"><span style="font-family: arial,helvetica,sans-serif;"> Ropek also created the &ldquo;Colorado Symbols&rdquo; fence outside the state capitol in Denver.</span></span></p>
Long Description:
<p><span style="font-size: small;"><span style="font-family: arial,helvetica,sans-serif;">"Harmony of Chaos," a Ropek work at the Loveland Public Library<br /></span></span></p>
Category Lead:
Category Lead Story

Print This Post