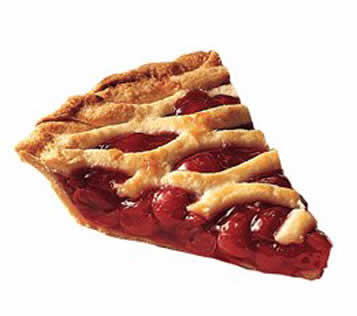 Loveland Museum/Gallery to Host Annual Cherry Pie Celebration
LOVELAND, CO  The Loveland Museum/Gallery will host the 2011 Cherry Pie Celebration on Saturday, July 23 from 5:00-8:00 pm. The event will take place in Peters Park, adjacent to the Museum, at 503 North Lincoln Avenue. Admission to the event is free. Pie by the slice, ice cream and drinks will be available for sale.
The Cherry Pie Celebration features:
-Sharon Danhauer, Loveland Historical Society—A talk about Loveland's cherry production history at 4:00 pm in the Foote Auditorium, inside the Museum;
-Children's Activities—enjoy sidewalk chalk and crafts;
-Booths—Johnson's Corner, Eye Center of Northern Colorado, and Loveland Historical Society. Lincoln Gallery will host a Starving Artist Art Sale during the event. Studio Vino will have a booth on site, as well as a Cherry Pie painting class that evening at the studio;
-Pie, ice cream and beverages for sale. The pie will be prepared by Johnson's Corner, the ice cream will be provided by Penguin's and the coffee will be provided by Dazbog;
-Live music—5:00 – 6:20 pm Loose Cannon Bluegrass and 6:40 – 8:00 pm, Giddyup Kitty.
The Art of the Tart Cherry Pie contest is back! This year, the contest will have two age categories, Adult and Student (18 and under). Pie entries need to be submitted to the judge booth between 4:00 and 5:00 pm on the day of the event. All entries must be in the form of a pie (no buckles, crisps or cobblers). No commercial pies are allowed and all pies must be baked within 24 hours of the 5:00 pm deadline. Pies will be judged on appearance, top & bottom crust, filling texture and taste. Winners in each category will be announced at 7:30 pm. Judges for this year's contest include Kristen Browning-Blas (Denver Post), Mayor Cecil Gutierrez (City of Loveland), Pamela Dickman (Reporter-Herald), Peggy Schwarz (Cultural Services Board) and Erik Trenary, (Youth Advisory Commission).
Sponsors for the 2011 Cherry Pie Celebration are the Loveland Museum/Gallery, Johnson's Corner, Eye Center of Northern Colorado, Loveland Historical Society, Penguin's Ice Cream, Dazbog, Lincoln Gallery and Studio Vino.
The Cherry Pie Celebration commemorates Loveland's early cherry industry. At one time, the Loveland area was known as the region best adapted to raising cherries in Colorado. There were 10,000 acres of the crop; trees covered land now occupied by Orchards Shopping Center and Cherry Hills Estates. The largest single cherry orchard west of the Mississippi was located here. In addition, Loveland boasted three commercial canning companies operating cherry processing factories during the height of the industry: Kuner-Empson, Loveland Canning, and Cherry Products Corporation.
Besides the picking of the crop, another industry developed – the manufacture and sale of cherry cider. Mrs. A.V. Benson and Neville's fruit ciders were known throughout the United States. Thirsty tourists in Model T's helped launch what was once one of Northern Colorado's most flourishing roadside industries.
The Loveland Museum/Gallery is open Tuesday, Wednesday, and Friday 10:00 am – 5:00 pm; Thursdays 10:00 am – 7:00 pm; Saturdays 10:00 am – 4:00 pm; Sundays 12:00 pm – 4:00 pm; Closed Mondays. For more information, please call the Loveland Museum/Gallery at 970-962-2410. The Loveland Museum/Gallery is located at 503 N Lincoln Avenue, the corner of 5th and Lincoln, in Loveland, Colorado.

Print This Post