An Ongoing Problem In Colorado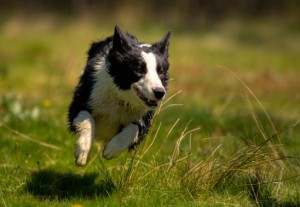 DURANGO, Colo. –Dogs chasing wildlife is nearly a constant problem in Colorado. The issue is particularly serious during the winter when dogs can easily rundown deer and elk in the snow and injure or kill them.
So far this winter, wildlife officers in every corner of the state have filed reports of chasing incidents. During the first week of January just north of Durango, one dog chased a herd of about 20 elk into the Animas River, explained Matt Thorpe, area wildlife manager in Durango.
"On a cold day those elk should have been bedding down so they could conserve energy," Thorpe said. "But because of that dog they stood in the cold water of the river for most of the rest of the day burning up calories they couldn't afford to lose."
The owner of the dog was located and ticketed. He paid a fine of $276.50.
During winter deer and elk can lose up to 40 percent of their body weight. The animals continue to feed on dormant grass and woody plant material, but dry vegetation holds little nutritional value.
"Deer and elk are barely surviving during the winter," Thorpe said. "They store up fat during the summer, but most of it gets burned off during the winter. If an animal has to run from a dog, it's using up calories that can't be replaced."
In another incident, four dogs recently killed three elk near Crestone in the San Luis Valley. Fortunately, CPW officers found the owners and wrote three tickets for $275 each. Colorado law also allows CPW to impose a fine to compensate the state for the loss of an animal.
Rick Basagoitia, area wildlife manager in Monte Vista, said that big game animals suffer horribly when they're attacked by dogs.
"So often we see injured and mangled deer that survived the initial attack. They are barely clinging to life and have no chance of making it through the winter," Basagoitia said. "Then we have to do something we hate to do, we put them down."
Many pet owners believe that their dogs would never chase wildlife. The fact is that most dogs, given the chance, follow their ancient predator instincts and will chase wildlife. "Once a dog or group of dogs starts this behavior they rarely stop because they quickly learn to enjoy the chase," Basagoitia said.
But this behavior can also lead to a dog's demise. If a wildlife officer or other law enforcement officer sees dogs chasing deer or elk, Colorado law allows the dog to be shot. 
"We don't like to take drastic action against dogs. Dealing with the dog owners is the best way to prevent these types of incidents," Basagoitia said.
There are many reasons dogs should be kept on a leash when walking in areas where wildlife are present. One dog owner in the Gunnison area found out the hard way early in January while walking his pet in the popular Hartman Rocks recreation area.
The dog was running free and disappeared over a rise. A couple of minutes later the dog reappeared – running from a mountain lion. The cougar caught the dog and injured it slightly before being chased off by the owner. The dog survived and the pet owner learned a lesson.
I believe that the lion was protecting a food cache nearby, probably a deer that it had killed," said J Wenum, area wildlife manager in Gunnison. "The lion was being a lion. There's a reason why dogs should be on a leash."
Even in seemingly controlled environments like state parks, dogs are required to be on a leash. At Ridgway State Park dogs often chase wildlife, other dogs and even people.

"When we contact owners whose dogs have attacked wildlife or bitten someone, they always insist that their dog has never behaved like that," said Kirstin Copeland, Ridgway park manager. "But we know that dogs act differently when they're taken out of their normal environment."
CPW officials know that people in Colorado love their dogs. But they also have a responsibility to assure that their animals don't become a hazard to wildlife, people and other dogs.
"It's not difficult to keep a dog under control and to train it properly," said Patt Dorsey, southwest regional manager for Colorado Parks and Wildlife. "Keep your dogs secure when you're at work during the day. Let's give wildlife a chance"
For more news about Colorado Parks and Wildlife go to: http://cpw.state.co.us 

For more information about Colorado Parks and Wildlife go to: http://cpw.state.co.us.

Print This Post