Megan Reece and Ron Thomas Jr. are happy to announce their upcoming wedding.
The bride-to-be is the daughter of Sheryl Griese and husband Ron Griese of Loveland, and Bob Reece and his wife Joanne Blair of Firestone. The groom-to-be is the son of Teri Thomas and Ron Thomas, Sr. of Loveland.
Reece graduated from the University of Colorado with a B.S. in journalism, and a B.A. in history. She's currently earning her M.S. degree in nutrition from Colorado State University and lives in Longmont. Her bi-weekly column "Fit & Fun" appears in the Berthoud Recorder.
Thomas graduated from the University of Colorado with a B.A. in math. He's currently a Partner Account Manager with SHL in Boulder and lives in Longmont.
The couple met in high school (Longmont High) and dated steadily for seven-and-a-half years before becoming engaged. Future plans include travel (Costa Rica, Italy, Australia, England) buying a house and having several children.
The wedding is scheduled for May 29 at Lone Hawk Farm in Longmont. The couple will celebrate their mutual appreciation of Hunter S. Thompson's writing with a "Gonzo"-themed wedding. They plan to honeymoon in Rome in October of this year.
News Image: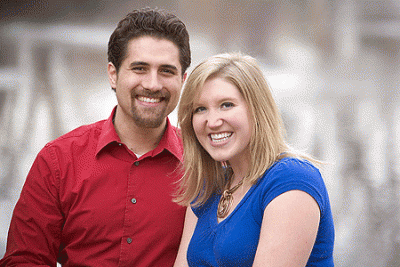 Long Description:
<p><span style="font-size: small;"><span style="font-family: arial,helvetica,sans-serif;">Ron Thomas Jr.</span></span><span style="font-size: small;"><span style="font-family: arial,helvetica,sans-serif;"> and Megan Reece<br /> </span></span></p>

Print This Post