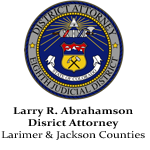 On June 17, 2010, a seventeen-year-old girl was tragically killed when she was struck by a falling rock while visiting Estes Park, Colorado with her church group.  The Estes Park Police Department did an extensive investigation into the facts and circumstances leading to the teenager's death.
On October 26, 2010, as a result of the investigation, the People filed a delinquency petition against a fifteen-year-old male alleging that he had recklessly caused the death of another by purposefully dislodging a rock from a cliff with knowledge that a number of people were on the ground below.  The fifteen-year-old male was a member of a separate church group visiting Estes Park.  Initial reports from witnesses who were with the fifteen-year-old male indicated that he intended the rock to fall from the cliff and into the river below in an attempt to facetiously cause others to believe that he, himself, had fallen into the river.  There was no evidence that the fifteen-year-old male intended to cause injury to anyone.  The charge reflected reckless behavior.
In preparation for trial, members of the District Attorney's Office and the Estes Park Police Department revisited the scene and began re-interviewing witnesses that were willing to work with the prosecution.
On January 20, 2011, the District Attorney filed a motion asking the Court to dismiss the delinquency petition against the fifteen-year-old male.   It became apparent that the parents of many of the essential juvenile witnesses were very concerned with re-traumatizing their children by having them testify about this highly emotional event.  Additionally, some of these juvenile witnesses now have different recollections of exactly what was said and what happened during this very traumatic event.  Expert analysis also has not been definitive as to the exact cause of the rocks movement.  After extensive discussion and analysis, it was determined that justice would be best served by the dismissal of the juvenile delinquency petition against the fifteen-year-old male.  In our opinion, currently, sufficient competent evidence does not exist that would allow a jury to find guilt beyond a reasonable doubt.  Therefore, ethically the District Attorney cannot proceed with the prosecution.
The District Attorney's Office has fully discussed this decision with the family of the young victim and with the Estes Park Police Department.
The District Attorney's Office wishes to thank the Estes Park Police Department for its diligence and professionalism in investigating the case and expresses its heartfelt condolences to the child victim's family, as well as the other families and members of the Estes Park Community who have been touched by this tragic event.

Print This Post