Date:                       April 21, 2011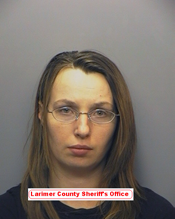 On March 10, 2011, Larimer County Sheriff's Office deputies and emergency medical teams responded to the 3700-block of Henderson Avenue in Wellington, Colorado, on the report that a two-year-old boy had hit his head and was not responsive.  Jamie Whittington, the boy's aunt and legal caregiver, was questioned by Larimer County Sheriff's Office investigators.  The boy was flown to Children's Hospital in Denver.  It was later discovered, after in-depth medical exams, that the 15-month-old brother of the injured boy also had previous fracture injuries.
There were a total of three children in the home at the time of the incident.  All of the children were removed and placed with other family members.
After in-depth medical consultations and a detailed case investigation,  an arrest warrant was issued for Jamie Whittington, DOB: 08/06/83, for Child Abuse Resulting in Serious Bodily Injury, a class three felony, as well as Child Abuse, a class two misdemeanor.
Jamie Whittington turned herself into the Larimer County Jail this morning and is currently being held on a $300,000 cash, property or surety bond.
The two-year-old boy remains at Children's Hospital in stable condition.

Print This Post