The guest speaker is Dr. Roger Culver, and the title of his presentation is "Bygone Constellations."
Down through the centuries, cultures the world over have imagined "star pictures" to be present in the random scattering of stars in the night sky. Out of a myriad of such imaginings, modern astronomers now officially recognize 88 of these star pictures or constellations, thus consigning "a myriad minus 88" constellations to history. In this presentation we will discuss some of these "left-behind" constellations.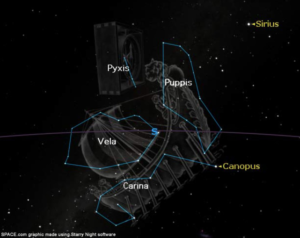 Dr. Roger Culver received his Ph.D. in astronomy at the Ohio State University in 1971. He is currently Professor Emeritus of Astronomy after 50 years as a member of the Department of Physics at the Colorado State University. Professor Culver has published 85 research papers and 9 books in his career and has observed at some of the leading observatories around the world, including the Kitt Peak and Lowell Observatories in Arizona, and the Mount Stromlo and Siding Springs Observatories in Australia. He is also a member of the International Astronomical Union, the Royal Astronomical Society of England, and the American Astronomical Society. Throughout his 50-year career, he taught all of the astronomy courses offered at CSU, whose total enrollment over those years was well over 40,000 students. In addition, for the past 49 years he has written a monthly newspaper column, "Colorado Skies", which has appeared in both the Fort Collins Coloradoan and the North Forty News. In August of 2016 the IAU re-designated asteroid 1999 GV9 as (29874) Rogerculver.
Weather permitting after the presentation, visitors will be invited to look through the large telescope at various celestial objects. Public star nights are held the third Friday of each month, except July, when the LTO is closed for annual maintenance.
No reservations are necessary for these nights. Just come and join in for the talk and some observing afterward.
If you have any questions, please call the observatory information line at 970-613-7793
or check the LTO web site at www.starkids.org

Print This Post