Make sure your pets are vaccinated
DENVER—Two pet dogs have tested positive for rabies, one in Weld County and one in Yuma County. These are the first cases of rabies among dogs in Colorado since 2003, when a dog from Texas tested positive. The last time a dog was exposed and developed rabies in Colorado was 1974. All contacts of these two dogs have been identified and have sought appropriate care to prevent rabies; these animals did not create a risk to other members of the public. The Colorado Department of Public Health and Environment urges people to check their pets' vaccination status, stay away from stray and wild animals, and take other precautions to avoid rabies.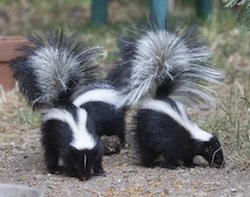 The current cases in domestic dogs are in addition to 41 rabies cases in wild animals so far this year, numbers that reflect only the animals that have been tested. Rabies regularly is found in Colorado wildlife, especially skunks. While it is typical to see an increase in the number of cases as the weather warms up and animals become more active, Colorado has seen a higher number of rabid skunks this year compared to last. This skunk variant of rabies first was identified in Colorado in 2007 in the eastern border counties. Since then, it has spread throughout eastern Colorado including the Front Range and metro Denver. As rabies spreads among wildlife along the densely populated Front Range, both humans and pets are at greater risk for this deadly disease.
"When the family dog or cat gets rabies, there's an increased risk of exposure to people," said Colorado Public Health Veterinarian Jennifer House. "It's critical to make sure all your pets are up to date on their vaccinations. This not only protects your pet but keeps your whole family safe."
Rabies vaccines should be given by a veterinarian every one to three years. Don't assume your pet is vaccinated, House advised. Check your pet's records with your veterinary clinic. People should stay away from wild animals, and keep their pets away, too. If you or your pet have had contact with a bat, skunk, raccoon or fox, notify your local health department immediately.
Rabies spreads primarily through the bite of rabid animals. It usually is fatal in humans once symptoms appear. People who have been bitten or scratched by an unfamiliar animal should contact their health care provider immediately to prevent the disease. If you see animals acting strangely, report it to the state health department or your local health department.
To avoid rabies
Never touch or feed wild or stray animals. Don't leave pet food outdoors. If you need help with a sick or orphaned animal, contact a wildlife rehabilitator. Contact a nearby animal shelter if you encounter a lost or stray dog or cat.
Vaccinate your pets. Use a licensed veterinarian, and make sure you keep up with pets' booster shots.
Leash your dog.Protect dogs and wildlife by keeping your pet on a leash while walking or hiking.
Keep cats and other pets inside at night. Keep dogs within your sight (in a fenced yard or on leash) when they are outside during the day.
Call your veterinarian promptly if you believe your pet has been exposed to a wild animal.
Vaccinate pastured animals annually. Have a licensed veterinarian administer an approved large-animal rabies vaccine.
Bat-proof your home.Learn how at this Centers for Disease Control and Prevention web page.
Recognizing sick wildlife
Many healthy wild animals are normally afraid of humans. However, sick animals often do not run away when they're near people.
Wildlife with rabies often will act aggressively or violently approach people or pets.
Some rabid animals are overly quiet and passive and want to hide. Don't bother them.
Rabid wildlife might have trouble walking, flying, eating or drinking.
For more information, visit our rabies web page.

Print This Post