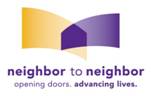 To the editor:
Economists tell us the recession is nearly over. Meanwhile, here in Larimer County, the ongoing ripple effects of the economic downturn have devastating impacts, as unstable housing disrupts employment, education, health and family stability. Job loss and foreclosures are forcing homeowners to return to renting. This drives vacancy rates down and rental prices up. And, it's not just homeowners feeling the pinch: more and more families are living in poverty and on the brink of homelessness.
This year, Neighbor to Neighbor has seen many families seeking help for the first time. With help from United Way of Larimer County, we have increased our support services to prevent people from becoming homeless. Our goal is to reduce the need for our services in the years ahead. That's why agencies like Neighbor to Neighbor are working not only to accomplish our own missions – such as ours to promote housing stability – but also to improve our community for future generations. By participating in Pathways Past Poverty, our common goal is to create long-lasting changes that prevent problems from happening in the first place.
We share a bold vision for Larimer County. In the next ten years, we will work to ensure that people can find and maintain housing that is affordable and safe, so they can thrive in our community. We invite you to be part of the change. Please join me in supporting the United Way of Larimer County this year, by giving, advocating, or volunteering. That's what it means to LIVE UNITED.

Print This Post