Ashley nee Nuckols and Zachery Gettman, both of Berthoud, were united in marriage Friday, Sept. 25, at the Rocky Mountain Christian Church in Niwot. The double-ring ceremony was officiated by Drew Dephler, pastor of Lifebridge Christian Church.
The Ptarmigan String quartet played as the bride walked down the candlelit aisle in a satin, side-draped A-line dress with embroidered beading bodice and train. She carried a pink rose nosegay dotted with daisies and lisianthus. She was attended by maid of honor Andrea Weeks; and bridesmaids Laura Gettman, sister of the groom; Kristen Klem; Cassie Nuckols, cousin of the bride; and Andrea Latimer. Flower girls were Maia and Sophia Lee.
The groom was attended by best man Lee Sullivan and groomsmen Austin Johnson, cousin of the groom; Ben Urban; Dustin Broes and Sean Towles. Ringbearer was Aden Brown and candlelighters were brother of the bride Kyle Nuckols and Alex Nuckols, cousin of the bride. Acting as ushers for the ceremony were Kyle and Alex Nuckols, Link Lanter and Alex Miller.
A reception followed at The Garden Room in Loveland.
The bride is the daughter of Larry and Sara Nuckols of Berthoud. She is a 2005 graduate of Berthoud High School and a recent graduate of the Denver School of Nursing. She is awaiting State Boards for a registered nurse license.
The groom is the son of John and Christina Gettman of Berthoud and is a 2005 graduate of BHS. After graduating from Aurora Community College in 2007, he is currently employed with the Wagner Equipment Company.
The couple honeymooned in Hawaii on the Big Island and Kauai.
News Image: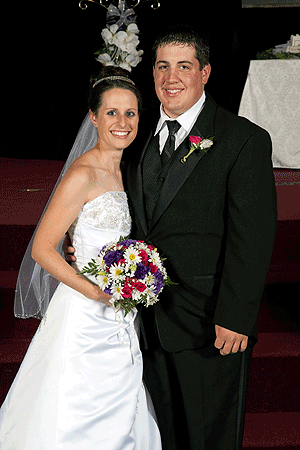 Category Lead:
Category Primary Featured Story

Print This Post