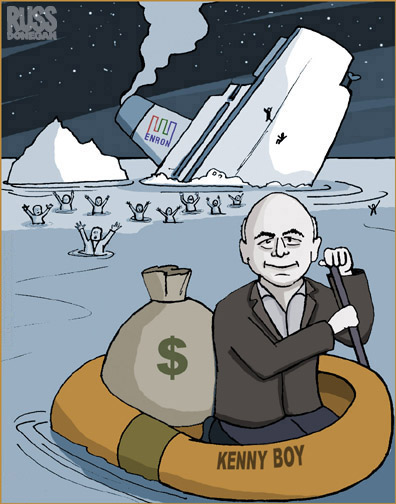 Enron files for bankruptcy
On this day in 2001, the Enron Corporation files for Chapter 11 bankruptcy protection in a New York court, sparking one of the largest corporate scandals in U.S. history.
An energy-trading company based in Houston, Texas, Enron was formed in 1985 as the merger of two gas companies, Houston Natural Gas and Internorth. Under chairman and CEO Kenneth Lay, Enron rose as high as number seven on Fortune magazine's list of the top 500 U.S. companies. In 2000, the company employed 21,000 people and posted revenue of $111 billion. Over the next year, however, Enron's stock price began a dramatic slide, dropping from $90.75 in August 2000 to $0.26 by closing on November 30, 2001.
As prices fell, Lay sold large amounts of his Enron stock, while simultaneously encouraging Enron employees to buy more shares and assuring them that the company was on the rebound. Employees saw their retirement savings accounts wiped out as Enron's stock price continued to plummet. After another energy company, Dynegy, canceled a planned $8.4 billion buy-out in late November, Enron filed for bankruptcy. By the end of the year, Enron's collapse had cost investors billions of dollars, wiped out some 5,600 jobs and liquidated almost $2.1 billion in pension plans.
Over the next several years, the name "Enron" became synonymous with large-scale corporate fraud and corruption, as an investigation by the Securities and Exchange Commission and the U.S. Justice Department revealed that Enron had inflated its earnings by hiding debts and losses in subsidiary partnerships. The government subsequently accused Lay and Jeffrey K. Skilling, who served as Enron's CEO from February to August 2001, of conspiring to cover up their company's financial weaknesses from investors. The investigation also brought down accounting giant Arthur Anderson, whose auditors were found guilty of deliberately destroying documents incriminating to Enron.
In July 2004, a Houston court indicted Skilling on 35 counts including fraud, conspiracy and insider trading. Lay was charged with 11 similar crimes. The trial began on January 30, 2006, in Houston. A number of former Enron employees appeared on the stand, including Andrew Fastow, Enron's ex-CFO, who early on pleaded guilty to two counts of conspiracy and agreed to testify against his former bosses. Over the course of the trial, the defiant Skilling–who unloaded almost $60 million worth of Enron stock shortly after his resignation but refused to admit he knew of the company's impending collapse–emerged as the figure many identified most personally with the scandal. In May 2006, Skilling was convicted of 19 of 35 counts, while Lay was found guilty on 10 counts of fraud and conspiracy. When Lay died from heart disease just two months later, a Houston judge vacated the counts against him. That October, the 52-year-old Skilling was sentenced to more than 24 years in prison.
For more events of December 2, visit History.com
For more, read Enronization , Global Epidemic
is unrestrained, unregulated capitalism good for the country, read: Has US learned the lesson of Enron 10 years later?

Print This Post