Pepper-Spraying Protesters Is Just the Beginning: Here Are More Hypermilitarized Weapons Your Local Police Force Could Employ
By arming local police departments with military grade equipment, domestic policing has come to resemble a combat operation with citizens as the enemy.
November 22, 2011 |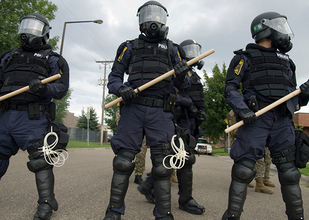 On Friday, November 18, a group of UC Davis students staged a sit-in to protect their Occupy encampment from destruction by a horde of riot police. Seated on the ground, the students defensively ducked as Lt. John Pike approached them. They were right to do so: Pike aimed a riot-extinguisher at them, showering the crowd of unarmed students with pepper spray as calmly as if he were watering his garden. A group of officers then proceeded to break up the crowd with batons and arrest them. The video of the incident has since gone viral.
The counterinsurgency-like tactics used to subdue unarmed, peaceful demonstrators at Occupy encampments around the country have left people shocked and appalled at the grotesque treatment of protesters as if they were violent enemy combatants. This dynamic was captured best by a photo published in the News Observer showing machine-gun toting police officers dressed in combat attire, pointing their weapons at unarmed Occupy Chapel Hill demonstrators.
Will the UC Davis investigation be impartial?
From The Bay Citizen
A Background Check on the UC Davis Pepper-Spray Investigator
William Bratton once urged Brown University to arm its cops
By Matt Smith
William J. Bratton, the former police chief whom the University of California hired to investigate the pepper-spraying of Occupy protesters at UC Davis, has a reputation for taking on tough policing challenges — and for courting controversy.
Bratton, who has led the Los Angeles and New York City police departments, is the chairman of Kroll Security, which calls itself "the world's leading risk consulting firm."
Since the mid-1990s, Bratton has led a series of consulting firms, offering advice to beleaguered police forces, many abroad, only to see his very presence as an advisor bring further scrutiny to those police agencies. He was also hired to revamp the campus police departments at Barnard College and Brown University.

Print This Post