It's All in the Numbers
If nothing else, Colby Schultz has to like what he sees every time the Berthoud track and field coach shows up at practice. It doesn't have to be what his athletes are doing. It's just the sheer number of them there.
With a team of more than 60 student-athletes out this year — more than double last year's total of 31 — the Spartans, if for no other reason, have to be considered a surprise team in the 4A Northern Conference this year.
"Last year, we had a good group as far as boys and girls. We just didn't have the numbers to score points in events," Schultz said.
That's not going to be the case this year. The numbers are there, but the team will still be guided by its senior core, led by Ty Duncan, Bryce Munoz and the relay teams. They represent the only returning members of the Berthoud 4×100 relay team that set the school record last year while finishing second at the Northern Conference meet. The 4×200 and 4×400 relay teams represented the school at state, too.
"We have a couple of kids we lost, that we graduated, from the qualifying team, but we've got a really solid group of seniors this year," Schultz said. "Several of which this is their first year out for track. That is really going to help us. We think we can be pretty competitive."
Others that Schultz will rely on to help Berthoud score points this year include Greg Mulder, Kayla Schinke, Greg Morrell, Hallie Groenewald and a handful of cross country runners, including state qualifiers Derek Gwin and Emma Otto.
Head coach: Colby Schultz
Conference: 4A Northern Conference
Strength: Numbers. Team doubles number of participants from a year ago
Weakness: Tough competition in Northern Conference
Quotable: "I think we can be very competitive in both (running and field events). Our senior group is a real good core," Schultz said. "Coach Kauffman over at Turner (Middle School) does a phenomenal job of getting these kids ready. We have a good group of freshman I think will be able to compete right away for us, especially in some of the field events."
SCHEDULE
March 7 at Fort Morgan Invitational, 9 a.m.
March 10 at Skyline Relays, noon
March 12 at City Challenge, Greeley, 1 p.m.
March 14 at Brush Invitational, 8:30 a.m.
March 28 at Greeley Central Invitational, TBA
April 4 at Windsor Invitational, TBA
April 11 at Valhalla Classic Invitational, 9 a.m.
April 16 at Tiger Invitational, Lakewood, 3:30 p.m.
April 18 Spartan Classic Invitational, 9 a.m.
April 24 at St. Vrain Invitational, Longmont, 2:30 p.m.
May 5 Conference meet, Fort Morgan, 9 a.m.
May 14-16 State championship, Lakewood, TBA
ROSTER
BOYS
Egan Ayala, Sr.
Kasimir Bahry, Fr.
Kyle Breitstein, Fr.
Bryan Cahill, Jr.
Russell D'Amico, So.
Geno Dawdy, So.
Nick Divine, Jr.
Tom Divine, Jr.
Thomas Doles, Fr.
Ty Duncan, Sr.
Julian Erdmann, Jr.
Ben Fell, Jr.
Steven Fiske, So.
Kent Flynn, Jr.
Chase Fraser, Fr.
David French, Jr.
Kenneth Gomez, So.
Kevin Gomez, So.
Ryan Gomez, Sr.
Greg Hutchins, Fr.
Wesley Johnson, So.
Jack Kirk, Sr.
William Lancaster, Jr.
Calvin Ludwig, Fr.
Joel Maly, Jr.
George Matern, So.
Greg Morrell, Sr.
Greg Mulder, Sr.
Brad Novell, Fr.
David Pott, Sr.
Chad Schlagel, So.
Billy Schump, Jr.
Jeff Shields, Sr.
Ravi Smith, So.
Brendon Stewart, So.
Luke Taylor, Jr.
Brian Von Seggern, So.
GIRLS
Tanya Bezanson, So.
Megan Bolton, Sr.
Mollie Bonds, Fr.
Julia DiMauro, Jr.
Paige Dunn, Fr.
Dillon Fagler, Fr.
Shallyn Fahrenbruch, So.
Rachel Finney, Fr.
Maddison Funk, Fr.
Hallie Groenewald, Sr.
Cheyenne Hall, So.
Julia Leonard, So.
Emma Otto, Fr.
Polly Poirier, Sr.
Ashley Prescott, Fr.
Kayla Schinke, Sr.
Tatum Williams, Fr.
News Image: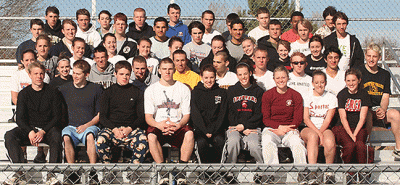 Long Description:
<p><span style="font-size: small;"><span style="font-family: arial,helvetica,sans-serif;">More than 60 student-athletes fill the BHS roster this season. Last year's team featured just 31 Spartans.</span></span></p>

Print This Post