By Taylor Lee
Berthoud Recorder
With another season of spring sports winding down, Berthoud High School held its 2009 spring sports award ceremony on Wednesday, May 20.
For spring sports this year there have been many great accomplishments, such as sophomore Tanya Bezanson breaking the school's shot put record, three girls from the golf team making it to state for the first time and the boys 4×100 relay team winning state.
Although there are many people who have helped Berthoud's sports programs be successful through the years, huge thanks goes out to Rusty Mathena, the school's athletic director who dedicated 29 years to BHS as a teacher, coach, mentor and much more. After all of the athletes were honored, parent Kim Wikre put together a retirement celebration for Mathena, which left Mathena speechless.
There have been many great things to happen to Berthoud's athletic program in the past few years with Mathena at the helm. Those things include the football team going to and winning the 3A state football championship in 2007, not to mention the success throughout the seasons for many other sports.
For 2009, the all-conference and all-state honorees for spring sports include Hilary Cito (girls soccer second-team) and Megan Bonds (girls soccer honorable mention); Danny McGinn, Jake Major and Brad Dick (baseball honorable mention); Stephanie Heaton (girls golf all-conference); Tye Duncan and Bryce Munoz (boys track and field all-conference) and Cheyenne Hall (girls track and field all-conference).
All-state track and field honorees were Greg Glasser, Greg Mulder, Kayla Schinke, Duncan, Munoz, Courtney Mills, Bezanson, Hall, Chanee Lintel and Ashley Prescott.
News Image: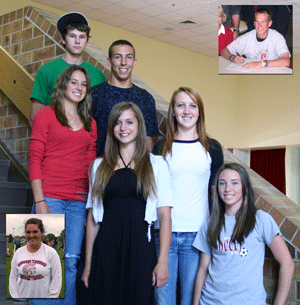 Long Description:
<p>Check out the May 28 print edition for the Spring 2009 Berthoud Recorder BHS All-Star Team. Selections include, bottom left inset, Stephanie Heaton; top right inset, Tye Duncan; main photo, clockwise from top left, Jake Major, Bryce Munoz, Katie Beckvermit, Brittany McNeill, Courtney Mills and Cheyenne Hall.</p>
Category Lead:
Category Primary Featured Story

Print This Post