By Andrew S. Nau
Special to the Berthoud Recorder
This exhibit consists of 27 individual display cases. Each case contains artifacts recovered from the roadbed and walkways of the Mountain Avenue reconstruction project of 2008. The backdrop in each case is a vintage photograph of the Berthoud area.

The collection process began in late July and ran through early December 2008. More than 1,100 items were recovered of which 418 were discarded after it was determined they were modern trash and not of historical context. The remaining 718 items were cleaned, sorted and photographed.
I logged 261 hours in the collection process, 93 hours conserving and researching the artifacts, 78 hours fabricating the display cases, 194 hours designing and assembling the exhibits and tour guide pamphlet and 70 hours installing the exhibits in merchants storefronts. Use of the photographs within the exhibits, was donated by the Berthoud Historical Society. The Main Street Program made funding available for reproduction of the photographs and The Berthoud Historical Society made funding available for reproduction of tour pamphlets and associated receptacles.
I handcrafted the display cases from tongue and groove birds-eye maple flooring, salvaged from the Palisade National Bank, built in 1881 and demolished in 1983. Viewers of the exhibit may notice the stresses that over 100 years of use in that capacity created. Nail holes and stress cracks were left unaddressed.

The exhibits will be displayed in storefronts along Mountain Avenue from Second to Fifth streets, the area of artifact recovery from June 1 until Sept. 30. After the exhibit, I will retain ownership of the exhibit to complete my research and use it as a visual aid for speaking engagements. The artifacts will be made available to the Little Thompson Valley Pioneer Museum on a loan basis and most will eventually be gifted to the Berthoud Historical Society along with my field data and research materials.
News Image: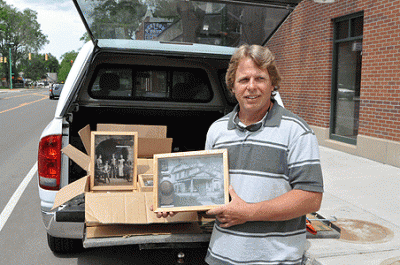 Long Description:
<p>"The History Beneath Our Feet" street museum exhibit by Andy Nau will be in the windows of 20 businesses along Mountain Avenue June 1 through September.</p>
Category Lead:
Category Secondary Featured Story

Print This Post