Cheryl Ann Scott, 55, of Fort Lupton peacefully passed away on May 20, in her home.
She was born on April 7, 1954, in Chicago to Richard and Beverly Bacus.
Scott graduated from Broomfield High School in 1972 and also attended the Barnes Business School in Denver. She was married to Karl E Scott on Sep. 25, 1976 and had two sons, Wesley Scott and Russell Scott.
Scott is survived by her father Richard Bacus of Broomfield, her brothers, Steve Bacus of Las Vegas Nev., Phillip Bacus of Broomfield, and Donald Bacus of Boise, Idaho and her sister Sandy Land of Lakewood, Colo. She was also blessed with two grandchildren, Bailey and Tyler Scott. She was preceded in death by her mother Beverly Bacus.
Funeral Services will be held at her family farm in Fort Lupton and will be officiated by Stephanie Munoz.
All donations can be made to the Alpha 1 Foundation, 2937 Southwest 27th Ave., Suite 302, Miami, FL 33133 in Scott's name.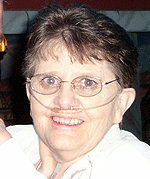 Print This Post