Anton (Tony) Tysdal, 93, of Berthoud died early Thursday morning at Windsor Healthcare Center.
Tony was born Nov. 5, 1915, in Linn Grove, Iowa to Ole and Marie Tysdal. He served in the Navy during World War II as a gunner's mate and was at Pearl Harbor shortly after it was attacked by the Japanese.
He married Marjorie Kell on March 23, 1944 in Hampton, Iowa. He worked as a conductor for the Chicago Northwestern Railroad in Iowa and excelled as a carpenter, building their home in Eagle Grove, Iowa. He retired in 1977 and they moved to Mountain Home, Ark. before moving to Berthoud in 1991.
Tony enjoyed hunting, fishing, boat racing, golfing, camping, carving items from wood, pitching horseshoes and even won the World Tournament in his class in 1986. He enjoyed traveling all over with his wife in their travel trailers and spending time with his family and friends.
He was a member of the Samuel Lutheran Church in Eagle Grove, Iowa.
Tony is survived by his wife of Berthoud; his children, Gary of Boulder and Marsha and Chuck Morgan of Fort Morgan; granddaughter Kimberly Fox, of Fort Collins; great-granddaughter Ashley Fox, step-grandson Major Ryan Morgan and wife Michelle of Fort Leavenworth, Kan.; step-great-grandchildren Brendan, Katherine and Sarah Morgan.
He was preceded in death by his parents, brothers Melvin, Selmer, Joseph and sister Bernice Akers.
Graveside services were held Wednesday at Foothills Garden of Memories. For condolences go to www.ViegutFuneralHome.com.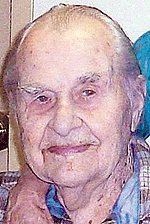 Print This Post