Florence E. Batesel Mangan, better known as "Eva," passed away June 1, 2009 at her home in Longmont. She was 93.
She was born December 24, 1915 in Verona (Barry County) Mo., to Curtis Cornelius Batesel (Hunt County, Texas) and Mary Culbertson Batesel (Wahoo, Neb.) at the home of her grandparents William H. and Sarah M. Batesel, where she became the younger sister to Luella J. Batesel.
At the age of two, Eva lost her mother in the 1918 flu epidemic. After that she and her sister lived with her grandparents in Ava, Mo., and Altoona, Kan., until her father found work and a home in Neodesha, Kan.
She attended Neodesha High School and married her high school sweetheart, Byron E. Mangan (Pat) in Independence, Kan., on March 28, 1932. The couple's early years together were spent living and working on Pat's grandfather's farm, E.E. Daugherty.
They left the farm when Pat Mangan joined the W.J. Small company in Neodesha, Kan., (now ADM Company). Transfers with the company had the family moving to Brunswick and Booneville, Mo., and Ellinwood, Kan., before moving to Berthoud in 1950 where Eva lived until 2007. She then moved to live with her daughter Ronna in Longmont.
Mangan worked in retail in Brunswick, Mo., and for J.C. Penney's in Longmont, and Loveland, and also worked at the Wayside Inn in Berthoud. She earned her real estate license in 1963 selling real estate in the Berthoud and Loveland area for Mount View Reality, Spence Reality, and Ruben J. Stroh Realtor. She also enjoyed volunteering at the Berthoud Senior Center for over 20 years and attended First Presbyterian Church of Berthoud for many years.
She was preceded in death by her husband Byron on Dec. 8, 1986; and three grandchildren Chell Ann Adams, Glenn Adams, Jr. and Vicky Adams; sister and brother in law Luella J. and Maynard Black; and three step-sisters.
Mangan is survived by her children; Wilda Joan Johnson (Ted), Ronna Chell Adams (Glenn deceased), Mary LaRae McGinn (Jerry), Patricia Lue Burkholder (Garry), Curtis Arthur Mangan (Nancy) and Angela Dawn Thompson (John); grandchildren Jim Johnson, LueAnn Everett, Karen Drummond, Steve Adams, Brenda Arguello, Jeff Adams, Regina Weber, Kermit McGinn, Judy Yoder, Chad Burkholder, Casey Mangan, Samantha Cameron, Enola Thompson, and Todd Thompson; 28 great-grandchildren; and 4 great-great-grandchildren.
Visitation from 3 to 5 p.m. Sunday, June 7, at the Ahlberg Funeral Chapel in Longmont, with family present to greet friends. Funeral service 10 a.m. Monday, June 8, at the First Presbyterian Church of Berthoud with Pastor Scott Phillips officiating. Interment Greenlawn Cemetery in Berthoud. Memorial contributions to the Florence E. Mangan memorial fund to support the community of Berthoud in c/o Ahlberg Funeral Chapel. Visit www.ahlbergfuneralchapel.com to share condolences with the family.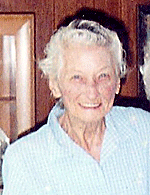 Print This Post