Megan Simon, formerly of Berthoud, and Patrick Chester, both of Prairie View, Kan., were united in marriage Jan. 10 at the Marriott in Fort Collins. Rev. Harvey Ruegsegger of the First Christian Church in Loveland officiated the double ring, evening ceremony.
The bride is the daughter of mark and Cathy Simon of Berthoud. The groom is the son of Rick and Robin Chester of Phillipsburg, Kan.
The bride wore a white spaghetti-strap, halter-top gown and carried a bouquet of blue silk hydrangeas and fresh white baby roses.

Maid of honor was Kandie Lee, a lifelong friend of the bride. Bridesmaids were Tonya Hopson and Kandi Evan, best man was John Hopson, a lifelong friend of the groom, groomsmen were Tyson Troyer and Adam Minkler and the ushers were Tom Simon, brother of the bride and John Robert Faden, college friend of both the bride and groom.

A barbecue buffet reception and dance were held immediately following the ceremony at the Marriott.

The couple met while attending Laramie County Community College in Cheyenne, Wyo., where both were majoring in Equine Training. They currently run a Red Angus cattle breeding and Quarter Horse training ranch along with the groom's family.

A belated honeymoon trip to Las Vegas to attend the National Finals Rodeo is being planned for December 2009.
News Image: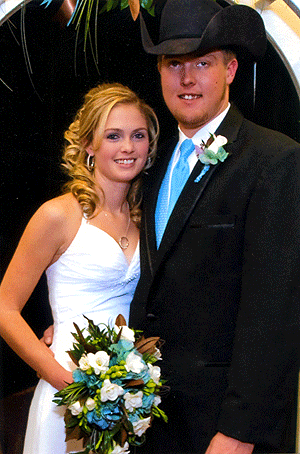 Long Description:
<p>Megan Simon and Patrick Chester were married Jan. 10 in Fort Collins.</p>
Category Lead:
Category Primary Featured Story

Print This Post