Ed Kowalczyk of LIVE, Soul Asylum, Gin Blossoms and Charitable Efforts Showcase 2010 Event Live Music, Local Cuisine, Beer Garden, Wine Pavilion and Kidz Zone Promise Fun for the Entire Family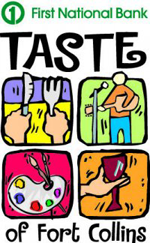 FORT COLLINS, CO (May 2010) – The 14th Annual Taste of Fort Collins will be held on June 12th and 13th at Civic Center Park in Old Town, Fort Collins. This family friendly event features activities that are perfect for the Northern Coloradoans' active lifestyle and benefits Special Olympics Larimer County as well as Kiwanis Club International.
This two-day festival offers attendees food from local restaurants, entertainment from regionally and internationally acclaimed musicians and an eclectic display of fine artisan's work as well as the region's best crafters. "Last year's festival was a great success, and the talented lineup for 2010 will help to make this year the best yet, " states Jason Ornstein, Event Director. " With Ed Kowalczyk of LIVE and Colorado favorites the Gin Blossoms and Soul Asylum, plus some of the strongest local talent assembled anywhere, Taste of Fort Collins will rival the top festivals in all of Colorado this summer. "
The Taste of Fort Collins will be held in Civic Center Park for the seventh consecutive year. Festival hours are Saturday, June 12 from 11:00am to 9:00pm and Sunday, June 13 from 11:00am to 7:30pm. Entrance fee to the Taste of Fort Collins is $5 per person before 3:00pm and $10 after 3:00pm each day. Children under 12, seniors over 65, and members of the Military with proper ID are admitted free of charge! Weekend passes are available for $15 at Wilbur's Total Beverage, and VIP/Backstage passes are available starting for $45 at www.TasteofFortCollins.com.
Taste of Fort Collins features the Coors Beer Garden, Wilbur's Wine Pavilion, an array of frosty cocktails and Coca- Cola products for those who don't wish to imbibe. Over 30 restaurants have already confirmed their participation in this year's festival, and over 125 artists, crafters and vendors. The always-exciting K99 Kidz Zone presented by Certa Pro Painters is a great way for the entire family to have fun together! Run for a Child's Sake road race will also be on Saturday, June 12 at 8:00am to kickoff the Taste weekend. All racers will receive free entry to Saturday's festivities! A complete schedule of events is available at www.TasteofFortCollins.com.
Taste of Fort Collins raises much-needed funds for our nonprofit partners, securing over $32,000 for the charities last year. Special Olympics Larimer Country is dedicated to providing year-round sports training and athletic competition in a variety of Olympic-type sports for children and adults with intellectual disabilities. They provide continuing opportunities to develop physical fitness, demonstrate courage, experience joy and participate in a sharing of gifts and friendship with their families and the community. Kiwanis Club's motto is "Young Children – Priority One, " and they work towards achieving that goal with the help of contributions raised at Taste of Fort Collins.
For more information regarding the Taste of Fort Collins, please call 877-FC-TASTE, email info@tppevents.com, visit our Facebook fan page at Taste of Fort Collins, or go to www.TasteofFortCollins.com.
Taste of Fort Collins is sponsored by First National Bank, RC Special Events, Pedersen Toyota, Wilbur's Total Beverage, Fort Collins Coloradoan, The Point, K99, Max-FM, Tri-102.5, Rock 102.9, Coors, Odells Brewing, Coca-Cola, Vitamin Water, Sprouts, Gosling's Rum, Skyy Vodka, Jack Daniels and CentraPro Painters. Taste of Fort Collins is produced by Team Player Productions.
Taste of Fort Collins | www.tasteoffortcollins.com | info@tppevents.com | 303.777.6887

Print This Post