Berthoud Art in the Garden on June 26 promises to be all about art, gardening, music and fun
On June 26, 2010 from 4-8 p.m. over 30  Berthoud area painters, sculptors, photographers and potters will gather at the Historic Waggener home, 980 Mountain Avenue in Berthoud (Parking South of Turner Middle School, 950 Massachusetts Ave in Berthoud) as a joint venture to benefit the Berthoud Arts and Humanities Alliance and Citizens First, a Berthoud civic group. There will be a children's art activity from 4-6 pm as well as live music.  Participating for the first time on the art scene in Northern Colorado, will be Don Lehn, father of Denver's sixties beat scene and inventor of Atlantean Lights, whose work in color and light has brought him beyond the cutting edge of art exploration.
Participants will enjoy informative gardening and landscaping talks by area experts. Topics include…
Garden Tour — Jane Vielehr will guide a tour through the garden and discuss her planting methods and process.
Roses with Charlotte Hardy
Edible Landscaping with Marlin & Barbara Ann McMonigal of Leasure Acre
Xeriscaping with Jim Doyle of Imagine Green Design
Wine tastings and wine by the glass will be available for those over the age of 21, featuring vintages by the following Colorado vineyards:
The event is sponsored by Berthoud Arts and Humanities Alliance (BAHA) and Citizens First, a Berthoud Civic Group. 
Admission is $5.00 for adults and free for children under the age of 12.
For a complete list of featured artists and all the event details, visit www.BerthoudArtintheGarden.com.
Parking for the event will be at the Turner Middle School parking lot. Enter by traveling north on Eighth Street and turn left on Turner Avenue. Entrance to the event will be from Turner Avenue across from the school gymnasium.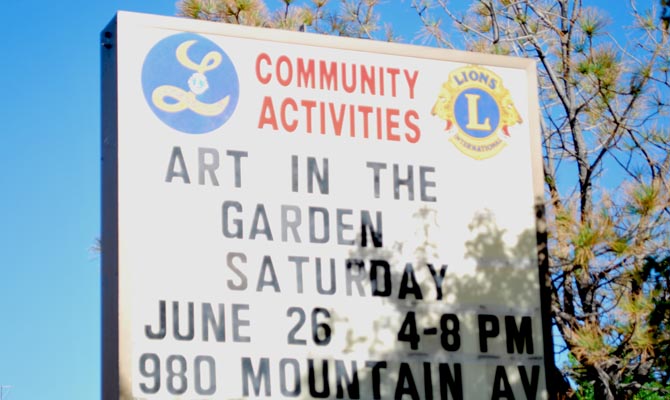 Print This Post