Berthoud Fire's Wildland Team Activated
Press Release from Berthoud Fire Protection District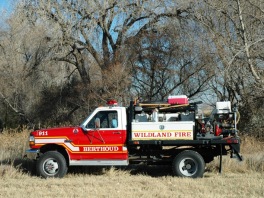 Berthoud Fire Protection District's Wildland Team was activated Friday afternoon in response to fires burning near Estes Park and Glen Haven.  Two crews of three were dispatched with one Type 3 and one Type 6 engines to the scene.   The type three has the capabilities of dispersing foam for the purpose of protecting structures, and for firefighting.  The type three and six are both four wheel drive engines with onboard water tanks and are built specifically for use of fighting Wildland and brush fires.  Firefighters currently working the fire are: Lt. Nico Romero, FF Monty Kitzman, Seasonal Wildland Firefighter Jake Himmler, Volunteer Firefighter Travis Bailey, Firefighter Jeremiah Karathanasis and Firefighter Neil Ferrell.
Berthoud Fire requires all firefighters to be certified Wildland Firefighters through the National Wildfire Coordinating Group requirements. Each spring they are required to attend a refresher class to maintain their certification and prove their physical ability by completing a fast paced walk, three miles in distance while carrying a 45 lb weight vest and must be done in a 45 min time.  In the past the Wildland team has been dispatched to Montana, California, Wyoming, Nebraska and Idaho as well as within our home state of Colorado.
More recently Berthoud's specialized single resources have been dispatched to the Beaver Fire in Norwood near Montrose, Co. Fire Behavior Specialist, Rod Moraga spent several days on the fire predicting fire behavior as part of the incident management team.   Structure Protection Specialist, Chris White was dispatched to the Parkdale Fire near Royal Gorge and Canyon City and is now also on the Cow Creek Fire and serves as part of the incident management team.  Quinn MacLeod, another single resource has been dispatched to the Arizona fires.
While assisting other agencies Berthoud Fire maintains its focus on the service and protection of the citizens of the District it serves and maintains its staffing 24/7.  While the Wildland team is out of the District a full staff is maintained at its two Stations to respond to all emergency calls.  Berthoud Fire maintains an on call list of seasonal Wildland Firefighters for the purpose of responding to out of District Wildland fires as well as a list of experienced firefighters to backfill for any career firefighters that may be deployed elsewhere.

Print This Post