Coal Creek Community Theater Presents On Borrowed Time by Paul Osborn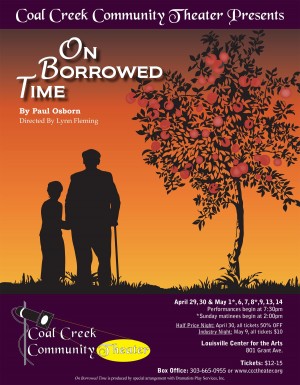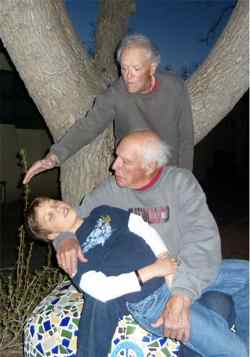 LOUISVILLE, CO – Coal Creek Community Theater will open their second show of their 22nd season on April 29. On Borrowed Time by Paul Osborn, directed by Lynn Fleming, will run through May 14 at the Louisville Center for the Arts. This touching fantasy tells the story of Gramps and his orphaned grandson, Pud. Gramps is idolized by his young grandson, who models his every action after the old man, but Gramps' salty expressions and rough behavior are frowned upon by the strait-laced Aunt Demetria, who angles to gain custody of Pud and his inheritance. When Death, in the form of Mr. Brink, comes to claim Gramps, Gramps can't bear to leave his beloved Pud to Aunt Demetria, so he outwits Death by trapping Mr. Brink in an apple tree. The resulting suspension of Death throughout the universe leads first to chaos, but ultimately to an unexpected and tender resolution to the dilemma.
WHEN
April 29, 30 & May 1*, 6, 7, 8*, 9, 13, 14
Performances begin at 7:30pm
*Sunday matinees begin at 2:00pm
Half Price Night: April 30, all tickets 50% OFF
Industry Night: May 9, all tickets $10
WHERE
Louisville Center for the Arts
801 Grant Ave.
Louisville, CO 80027
TICKETS
Adults: $15
Students (19-) and Seniors (60+): $12
BOX OFFICE
303-665-0955
CAST
Greg Christopher
James Carver
Cobi Granger
Marian Bennett
Veronica Lingo
Susan Meylor
Timm Meylor
Scott Swaggart
Dan Schock
Tom Wade
Randy Schwartz
SYNOPSIS

Print This Post