Colorado State University Little Shop of Physics Open House Returns Feb. 23 with New Dimensions
FORT COLLINS – Shine a light through your hand, measure the electricity from your muscles and make ice cream in two minutes. The Little Shop of Physics 22nd Annual Open House returns to Colorado State University with more than 300 hands-on experiments and seven interactive presentations for people of all ages.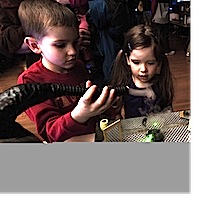 The free public event will be 10 a.m.- 6 p.m., Saturday, Feb. 23, in the university's Lory Student Center Ballroom. Throughout the day, people can actively participate in any of the experiments provided. This year's participants also will be supplied with science materials to take home.
"Each presentation will finish with each visitor receiving something to experiment with at home," said Brian Jones, director and founder of Little Shop of Physics. "This is the aspect of this year's event that I am most excited about – that folks will have the chance to continue exploring after they leave."
Among the items that families can take home are magic sand, singing tubes and 3-D glasses. The theme of this year's event is "Discover a New Dimension." Jones said presenters will perform bigger experiments and flashier shows than ever before.
Over the past two decades, Little Shop of Physics has reached more than 300,000 students with its experiments. Inspired by a science class full of uninterested eighth-graders, Jones created Little Shop of Physics with the goal of showing people that science is something that anyone can do and that it can be a lot of fun.
Each year Little Shop of Physics demonstrates its hundreds of experiments to 20,000 students and attracts as many as 8,000 people to its on-campus open house.
For more information visit http://littleshop.physics.colostate.edu.

Print This Post