Mountain View Fire Department and several agencies are working with the FAA after a possible midair collision between two small airplanes near Longmont. Weld County Road 1 is closed from Highway 119 to Quicksilver Road. The Road will be closed for 24 hours. The latest report is the pilot of the second plane has been treated at an area hospital and is expected to be released soon and is in good condition.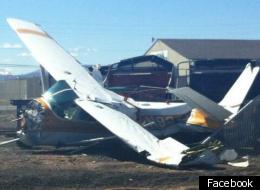 The Huffington Post Denver has more on the story
Planes Crash In Longmont: At Least 1 Dead In 2 Small Plane Crashes
LONGMONT, Colo. — At least one person has been killed after two small planes crashed north of Denver near Longmont in a possible midair collision.
Longmont police Cmdr. Tim Lewis said Friday's crashes occurred within five minutes of each other – and about six miles apart – but he didn't know if the planes had collided. FAA spokesman Mike Fergus says the crashes were being investigated as a possible midair collision.
One plane went down near a small airport in the city and the other crashed about a half-mile from a Walmart southeast of Longmont. Passers-by pulled the pilot from the plane that crashed at the airport, likely saving her life.
At least one person died in the plane that crashed near Walmart. One witness said that wreckage looked like a crushed can. .. Read More

Print This Post