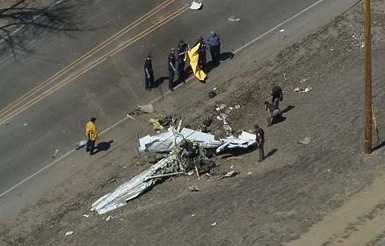 9 News.com
2 dead after apparent mid-air collision over Longmont
LONGMONT – Two planes crashed in separate locations after an apparent mid-air collision – leaving at least two people dead on Friday.
The first plane went down at 11:43 a.m. around Colorado Highway 119 and East County Line Road in Longmont.
The Weld County coroner's office says two people died in that plane crash, which was near a Walmart.
"He just accelerated right into the ground and that was it. I mean, one big boom and that was it," Joe Baker, a witness, said.
Another plane crashed just north of the Vance Brand Airport entrance at 11:48 a.m. It crashed onto the property in between some hangers into some industrial equipment after taking out a power line. The plane apparently ended up landing backwards.
Witnesses say both planes crashed after they collided in the air. … Read More

At least 2 dead in 2 small plane crashes in Colo
By STEVEN K. PAULSON, Associated Press
LONGMONT, Colo. (AP) — At least two people have been killed after two single-engine planes crashed north of Denver near Longmont in a possible midair collision, but one person survived, authorities said Friday.
Longmont police Cmdr. Tim Lewis said Friday's crashes occurred within five minutes of each other — and about six miles apart — but he didn't know whether the planes had collided. Federal Aviation Administration spokesman Mike Fergus said the crashes were being investigated as a possible midair collision.
A Cessna 180 went down near a small airport in the city, and a Cessna 172 crashed about a half-mile from a Walmart southeast of Longmont, close to two homes, police said.
"We were very fortunate neither home appeared to be in danger," Longmont Police Cmdr. Jeff Satur said.
Two people died in the plane that crashed near Walmart, said Gracie Marquez, deputy coroner for Weld County. Satur said the occupants appeared to be male and were believed to be an instructor pilot and a student who had taken off from Rocky Mountain Regional Airport near Broomfield, 16 miles away.
Dustin Nelson, who was working for an oilfield services company nearby, said he and others rushed to the scene.
"By the time we got there, there was just nothing we could do," … Read More

Print This Post