The next Foothills Audubon Club program will on Monday, November 5 at 7:00 P.M. at the Berthoud Community Center, 248 Welch Avenue, Berthoud, Colorado.
Please join us for "Yikes! Shrikes!" featuring popular speaker, David Leatherman. In his presentation we will explore the fascinating lives of shrikes on the eastern plains of Colorado, no holds barred!
After the program, refreshments will be served. This event is free and open to the public, all ages are welcome! For more information, please call (970) 613-0966.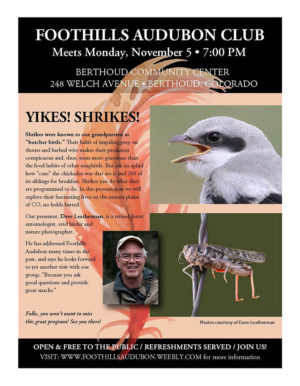 Print This Post