Shooting At Navy Yard In Washington, DC
By Annie-Rose Strasser September 16, 2013 AT 8:55 AM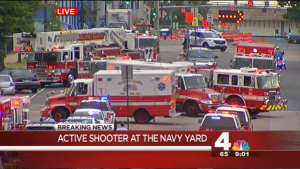 Police  were seeking as many as two gunmen on Monday morning in Washington, DC, after they apparently opened fire at the headquarters of the Naval Sea Systems Command in Navy Yard, the shore facility of the U.S. Navy, killing four and injuring at least eight.
Shots continued late into the morning as one gunman apparently barricaded himself inside a room in the building where the shooting took place. By 10:20 am EST, police reported that one of the gunmen was "down," while two were still on the loose inside of the building. According to ABC, one of the gunman had an assault rifle. Police described a gunman to Al Jazeera as "male, 6 ft. tall, bald, medium complexion, black top & pants."
NBC's Washington affiliate reports that at least 10 were injured in the shooting, including a DC police officer and a base security officer. A defense official told AP that "several" people have been killed, while ABC reports the number at four

.

Print This Post