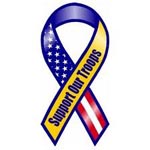 Three military mothers started a local support group for each other and for their families. Laural Downer and Beth Sterck are the founding members and as one of their first projects, they want to send packages to local service men and women serving overseas. Downer and Lexi Dipentino addressed the Berthoud Trustees on Tuesday evening to explain their plan.
Here are Downer's prepared remarks:
The military family support group of Berthoud would like to send care packages to those who are currently serving overseas. This support group was started by two mothers of sons who graduated from Berthoud High in 2009. Our sole purpose was to give support to families in Berthoud who have loved ones in the military. Our group has grown from two families to six families with hopes of growing larger yet. We typically meet on Saturdays' twice a month at various locations. We would like to ask for donations from the Berthoud community of various items like foot powder, beef jerky, baby wipes, hand warmers, Chap Stick, non-perishable snack items, stamps etc. If you would like to donate and or join our group, please call me at 970-980-6598 or see one of our donation boxes at various locations around town with a complete list of items. We would love to have your help in showing these men and women from Berthoud that we love and support the work that they are doing. Our time line in sending these packages is by 19 November. Thank you in advance.
DiPentino said that they have several donation boxes around town and would like people to contribute. If you have a son or daughter in service, you man let them know at the phone number above.
List of donated items needed
Beef Jerky Icy Hot patch pads
Paper, Pens, Envelopes & Stamps
Non perishable snack items
Baby wipes
Flavored packets to add to water bottles
Chap Stick
Zip lock Bags
Q-tips
Deodorant
Foot powder and body powder
AAA & AA Batteries
Disposable Cameras
Monkey Butt powder
Gum or hard candy
Playing cards, hacky sacks, stress relief squeeze balls, foot balls
Sunflower seeds, nuts
Individual Coffee packets
Small Sewing kits
Hand Warmers
Word puzzle books

Print This Post