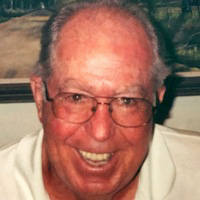 Max M. Marr, 85 of Loveland, formerly of Berthoud, passed away on October 5, 2018.
He was born at home in Norfolk, Nebraska on July 21, 1933 to Clinton J. and Gertie Marr. He had a older brother C. J., and spent a lot of time with him, especially working horses, and showing them. His family moved to Hastings, Nebraska when Max was in elementary school. Max graduated from Hastings High School in 1951 and played football and baseball throughout those years. He completed two years at Hastings college, and enlisted into the Army for two years. He returned to Hastings and finished his education and graduated with a bachelor's degree in teaching. He played football and baseball in college, also working various jobs including working at a furniture store, fruit stand, electrician's helper and farm laborer.
Max began teaching at Axtell high school, and also Palisade and Bertrand high schools, and coached track, football, and baseball. In 1961, he met the love of his life, Carrie Hyde through mutual friends, and courted for two and a half years, then married on June 8, 1963 in Taylor, Nebraska. They moved to Berthoud, Colorado in 1964 when he was hired as a teacher, and coach, and Carrie teaching English and business. There was no sport that Max couldn't coach and he loved the challenge and reward he got in return. He was a patient and analytical coach who didn't get excited or loud, but could motivate kids to do their best and improve at what they did. He coached all sports to include football, baseball, wrestling, basketball, volleyball, cross country and track and golf. Max inspired so many people during his years at Berthoud, and received many honors, including Colorado coach of the year, many state and district championships, CHSAA Hall of Fame, and he was the inaugural inductee for the Berthoud sports Hall of Fame. Max was also nominated for national coach of the year in 1981.
Max retired in 1992, after 34 years of teaching with 28 of those years in Berthoud. In 1996, the football and track field was dedicated as Max Marr stadium. Two former students in the Army parachuted in the game ball that day.
Max and Carrie have two children, and also raised their granddaughter Carianne since she was 1 year old. He loved any sports, and took Tyler to many practices, games all around the area that left a great impression on him. Max and Carrie loved to ski, loved animals, and attending horse shows. He also loved the game of golf. He always made time in his busy schedule for his family with different activities and traveling around the US, and Mexico. He instilled a great work ethic in his kids and showed how hard work pays off. Max and Carrie have been members of Lifespring Church and were involved with a variety of service and activities, growing their faith and Love of the Lord.
Max was preceded in death by his parents, brother CJ, his wife Carrie of 48 years, his daughter Jessica in 2001, and Niece Jenny Marr. He is survived by his son Tyler (Denise) Marr, and son Levi of Loveland, sister in law Annelda Helzer, granddaughter Carianne Marr and great grandson Max of Fort Collins, Niece Melissa Hyde and husband Mike Varoz of Heber City, Utah, nephew Tony (Jessica) Helzer of Loveland, Neice Jo Ella (Tom) Ruther of Cheyenne, Wyoming, Wendy Marr of Grand Island Nebraska, Drew Marr of Elgin, Jeff (Paula) Yoachim of Bellevue, Nebraska. He has many grandnieces and nephews, and great grandnieces and nephews.
A memorial service will be held at LifeSpring Church, Friday, October 12, at 10:30 am. In Lieu of flowers, per Max's request, a donation may be given to LifeSpring Church, 743 S. Dotsero, Loveland, CO, 80537.
SERVICES Memorial Service Friday, October 12, 2018 10:30 AM – 11:30 a.m.
LifeSpring Covenant Church 743 S. Dotsero Drive Loveland, Colorado 80537 Get Directions on Google Maps

Print This Post