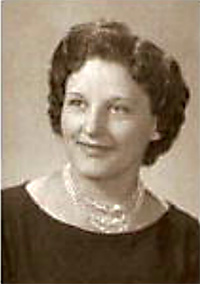 Bernice M. Longley
August 12, 1921 ~ October 1, 2018
Bernice Marie Huppe Longley was born on her mother's birthday, Aug. 12, 1921, to Wm. F. Huppe and Mary Beth Lehmann Huppe, at their home 5 miles SW of Berthoud, Colorado.
She graduated in 1939 from Berthoud High School as valedictorian, with the highest grade point average on record for Berthoud High. She attended the University of Colorado, where she won the Beta Alpha Psi award for the highest grade in the School of Accounting. She was a member of Sigma Epsilon Sigma scholastic honor society.
She moved to Loveland in 1942. She married Linn Mark Longley in Loveland, on Christmas Eve, 1942. To this union was born Joan Kay Longley (now Mrs. Gregory T. Zack of Brush,) and a granddaughter Hillary C. Zack (now Mrs. Michael A. Oliver of Phoenix, Arizona). Linn passed away on Jan. 18, 1994.
She worked at the First National Bank in Loveland/Affiliated first National Bank for 41 years and served as assistant cashier. She was a member of the National Association of Bank Women Officers and helped organize the Colorado and Wyoming groups. She served as the head of the Colorado group, and was regional vice president. She was also a member of the Credit Women's organization, and a member of the Soroptimist Club.
Later, she worked half days for 14 years in the life insurance office of Grant M. Ford, CLU, in Loveland, CO. Following his semi- retirement, she worked part-time for two years for Aspen Mortgage Company, until they closed their Loveland office and moved to Fort Collins.
She is survived by her daughter Joan Longley Zack and husband Gregory T. Zack in Brush; her granddaughter Hillary Zack Oliver and husband Michael A. Oliver in Phoenix; her niece's husband Bob Akers; niece, Virginia Huppe in Berthoud; nephew Tom Bashor; niece Sue Longley Speas, and husband Paul Speas in San Antonio, Texas and their children and grandchildren; two great-nieces in Longmont: Amy Parkinson, and Dianna Eberhart, and husband, Steve Eberhart: a niece Marilyn Wood Monroe, nephews Kris Wood, and Larry Wood; Several great-great nieces and nephews; and several great- great- great nephews.
She was preceded in death by her husband Linn Longley, her brother Alvin 'Bill' Huppe, and her sister Helen Bashor as well as her sister-in-law Anna Marie Longley Wood and her husband Charles Wood from Denver, CO. and her niece Betty Akers of Longmont, CO.
Graveside service, Friday, 11:00 a.m., Lakeside Cemetery.

Print This Post