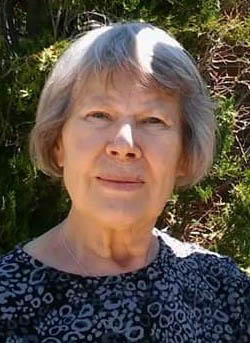 Mary Ellen Tonsing
August 5, 1932 – October 10, 2018
Mary Ellen was born in Topeka, Kansas, and was extremely proud to be a Kansas girl. She especially loved sunflowers. As Mary Ellen got a little older, she enjoyed going to Kansas City to see live jazz with her friends. She was fascinated by jazz and its musicians. She married John High in 1958, and soon after they moved to Colorado to raise their family.
Mary Ellen was very patriotic and served faithfully in politics. In the 1960s, she and her friends formed the Brotzman Belles in support of U.S. Congressman Don Brotzman. From there her political involvement in local and national politics blossomed and led to her being elected a delegate to the Republican National Convention in 1972. Mary Ellen helped found the Centennial Colorado Conference held in Keystone each summer. The conference ran for many years and was recognized by leaders of both political parties.
In the 1970s she developed a passion for gardening. She transformed her yard in Littleton into a beautiful English garden. She became known as the "Fern Lady" to many and collected and raised hardy ferns from around the world. During this time she became an active volunteer for both the Denver Botanic Gardens and Hudson Gardens. Mary Ellen developed many lasting friendships with fellow gardeners throughout Colorado and beyond. She was very proud of her garden and enjoyed hosting numerous tours. Strangers would often stop by unannounced to ask for a personal tour. The family built a gazebo in the garden where they enjoyed relaxing with friends. The gazebo was at the center of many family celebrations, including birthdays, weddings, Easter egg hunts for her grandchildren, and family reunions.
Nothing brought Mary Ellen more joy than being a grandma, which she excelled at very much.
In 2008, Mary Ellen moved to Berthoud and made a new life, met new friends, and created a new garden landscape. She cherished the many friends she had in Berthoud and the surrounding areas. They were a second family to her.
Mary Ellen will be lovingly remembered by her children, Clif (Marcella), Mary Ann, and Chris (Michelle). Mary Ellen will also be fondly remembered by her four grandchildren, Liam, Joshua, Lily, and Annika. She was preceded in death by her grandson Elias.
A Celebration of Mary Ellen's Life will be held at on Saturday November 3, 2018. Details to follow.
Memorial donations in memory of Mary Ellen may be made to American Cancer Society, Denver Botanic Gardens, or Hudson Gardens.

Print This Post