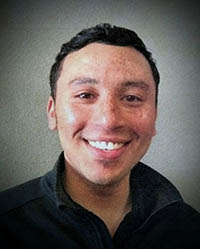 Seth Joshua Reid, 31, of Berthoud, passed away Tuesday, October 16, 2018 at Swedish Medical Center in Englewood. He was born on May 6, 1987 in Yonkers, New York to Gregory and Vida Reid.
Seth was raised in Mt. Vernon, New York and St. Louis, Missouri, where he graduated high school. He attended Illinois Wesleyan University and earned a B.F.A. in Music Theater in 2009.
Seth lived life to the fullest and enjoyed traveling and immersing himself in different cultures. Among his many gifts, Seth was an accomplished violinist, passionate singer, dancer, musician, and linguist. Above all, Seth lived a life dedicated to Jesus.
Seth is survived by his parents, Gregory and Vida Reid; brother, Aaron Reid; sister, Camille (Brian) Johnston; grandmother, Camille Russo; two nieces, three nephews; and a host of uncles, aunts, and cousins.
He was preceded in death by his Grandmother, Eunice Boatswain; Grandfathers, Garrett Reid, and William Rhetta; and aunt, Evette Reid.
Visitation hosted by RCC from 11:00 a.m.-12:45 p.m. Tuesday, October 23, 2018 followed by funeral service at 1:00 p.m. both at the Evangelical Free Church of Eaton, 1325 3rd Street, Eaton; Interment Ault Cemetery.
Please visit www.stoddardsunset.com to sign an online guestbook.
FAMILY
Gregory Arnold Reid, Father
Vida Marie Rhetta, Mother
Aaron Reid, Brother
Camille & Brian Johnston, Sister & Brother-in-law
Camille Russo, Grandmother
Seth is also survived by two nieces, three nephews; and a host of uncles, aunts, and cousins.

Print This Post