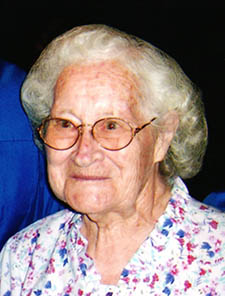 Delores Marie (Brownwood) Hicks was born October 5, 1925 to Cornelius "Neal" and Amy Delores (Brindle) Brownwood in rural Kit Carson County, Colorado near the town of Vona. She passed from this life into the presence of her Lord and Savior on October 29, 2018. She died peacefully at her farm home of 58 years in rural Berthoud, Colorado.
She was married to Wayne Lee Hicks on July 24, 1950 in Loveland, Colorado. They were farmers in the Campion area and, in 1960, moved their farming operations to the Berthoud countryside. Here they would live out their years, enjoying the benefits of hard work, a loving family life, and the blessings of God.
She was preceded in death by her husband on October 17, 2001. Her parents; and her two brothers, Eugene and wife Lucille (Smith) Brownwood; and Harold and wife Donnis (Hudson) Brownwood also preceded her.
She is survived by her son Paul and wife Karen (Desmond) Hicks; her daughter Wanda (Hicks) and husband Wayne Skeen, all of Berthoud; five grandchildren, Charla (Hicks) Robertson and husband Michael, Berthoud; Timothy Hicks, Loveland; and Westley Hicks, Denver; Aaron Skeen and wife Alyssa, Loveland; Debbie (Skeen) Gardner and husband Jeff, Caldwell, Idaho; and nine great-grandchildren, Kent Kesler, Cody Kesler, Madison Gardner, Chase Gardner, Alexis Skeen, Charity Musico, Andrew Skeen, Maycie Gardner, and Aiden Skeen; her sister Esther Mae (Brownwood) Anderson, of Loveland; and a host of nieces, nephews, neighbors, and friends.
She had many interests and, in addition to her work as a skilled and knowledgeable dairy farmer, she greatly enjoyed tending birds and animals, flower gardening, fixing large family Sunday and holiday dinners, church worship and fellowship events, reading, listening to southern gospel music, singing traditional hymns, playing the piano, sightseeing in the mountains, and viewing them from her home. She was also the family farm accountant and, across the years, served her church in several capacities.
Final arrangements are being provided by the Kibbey-Fishburn Funeral Home, 1102 Lincoln, Loveland, CO where a viewing will be held at 10:00A.M., Monday, November 5, 2018. The funeral will follow at 11:00 A.M. with Pastor Steve Cary officiating. Interment will be at 2:00 P.M. in the Greenlawn Cemetery of Berthoud.
"Blessed are the dead which die in the Lord from henceforth: Yea, saith the Spirit, that they may rest from their labours; and their works do follow them."
– Revelation 14:13

Print This Post