Friday, August 20, 2010 7:00 – 11:00 p.m.,

850 Spartan Ave at Berthoud High School (park east of the high school; directions are posted on the website, www.starkids.org).
Our guest speaker for this Friday is Meinte Veldhuis, president of the Little Thompson Science Foundation, which operates the LTO. The title of his talk will be: "Finishing the Construction of the LTO."
Mr. Veldhuis will discuss the various construction objectives and challenges from the past 5 years, since the board of directors decided to expand the LTO. Topics will include the facility warm room expansion, new pier and dome construction for a second large telescope, acquisition of the large 24" telescope from Mt Wilson, CA and the final integration of these items in the building. Current status of the new telescope and operating system will be discussed, as well as near term fundraising plans to complete the facility.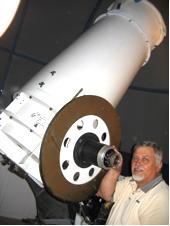 Mr. Veldhuis worked as a program manager at Ball Aerospace in Boulder for 27 years, and for 4 years at Alliant Tech Systems (ATK) in Lafayette, CO as senior program manager in the area of UAV payload design and integration and active electronically steered phased antenna arrays (AESA's).
In his spare time he has supported the construction and expansion of the LTO in Berthoud, the Celestial Center at the Keystone Science School, the Estes Park Memorial Observatory at Estes Park High School and the FRCC observatory construction in Longmont. Currently he is concentrating all his time on finishing the LTO construction.
Weather permitting, after the presentation visitors will be invited to look through our large telescope at various celestial objects.
Public star nights are held the third Friday of each month (except July, when we are closed for annual maintenance). No reservations are necessary for these nights. Just come and join us for the talk and some observing afterwards.
If you have any questions, please call the observatory information line at 970-613-7793 or check the LTO web site at: www.starkids.org
Sincerely,
Meinte Veldhuis, President, Little Thompson Science Foundation

Print This Post