What Allen West Does Not Know About Communists and Congress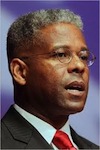 Florida Congressman Allen West was wrong when he suggested that there were dozens of communists in the current Congress. Misled by crank websites, the out-there Republican from Florida said Tuesday, "I believe there's about 78 to 81 members of the Democrat Party that are members of the Communist Party… They actually don't hide it. It's called the Congressional Progressive Caucus."
It would be generous, indeed, to suggest that West is confused.
The Congress is not currently a haven for followers of Karl Marx.
And there are none to be found in the Congressional Progressive Caucus.
The Congressional Progressive Caucus has over the years included a few friends of democratic socialism—which espouses an economic and social justice vision every bit as far removed from the Stalinist excesses that West seems to be decrying as the current Republican Party's views are from those of its radical founders.
The democratic socialist connections and tendencies that exist are no secret. …  Read More

Print This Post