DENVER, Colo. – The Colorado Division of Wildlife is seeking information on the poaching of a magnificent bull elk in downtown Estes Park on or around October 15.
Investigation by the DOW showed that the mature bull, which had maintained a high profile in Estes Park during the rut, was struck by an arrow in the spine near its hind quarters. The badly injured bull made its way to the Stanley Hotel property where it was observed to be unable to walk or eat. Police officers assisted in putting the elk down when it was concluded the bull could not recover from its injury. The meat of the animal was donated.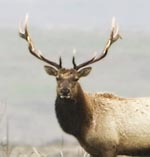 The bull was the star attraction of the Elk Fest and was viewed by Estes Park residents and hundreds of visitors, according to Rick Spowart, District Wildlife Manager for Estes Park.
"This was probably the biggest bull in the Estes Valley," Spowart said. "For about a month, I saw him every day on the golf course with a big harem, bugling and doing the whole rut thing. Whoever did this stole a great watchable wildlife opportunity from all of us."
Spowart said the bull, which sported seven points on each antler, reminded many in Estes Park of Samson, the giant, unofficial village mascot who was memorialized in bronze sculpture downtown after he was poached. That crime led to the passage of a law that allows the DOW to fine poachers $10,000 for the killing of trophy elk.
Due to the egregious nature of this incident and this elk's value to Estes Park, the DOW's Operation Game Thief is offering a reward of $5,000 to the person or persons who provide information that will lead to an arrest or citation being issued for this offense. Callers do not have to reveal their names or testify in court.
To provide information in this case, call toll-free within Colorado at 1-877-COLO-OGT (1-877-265-6648).
"The elk in Estes Park are enjoyed by all of its citizens and many visitors," said Rick Spowart. "It is inexcusable that someone would shoot an arrow into an elk here in town and then just leave it to suffer."
For more news about Division of Wildlife go to: http://wildlife.state.co.us/news/index.asp?DivisionID=3.
For more information about Division of Wildlife go to: http://wildlife.state.co.us.

Print This Post