Press Release
On a warm May evening in 1920, Loveland residents waited with breathless anticipation for the grand opening of the Rialto Theater. A true gem for Northern Colorado, newspapers of the time called the Rialto, "the finest theater north of Denver. " Over the years the theater has been home to Hollywood's best films, traveling vaudeville troupes, performing artists and Loveland's own performing arts groups. The historic Rialto Theater is celebrating its 90th Anniversary in 2010 and several events are planned in May.
Friday, May 7 at 7:30 p.m. features the talented performers The Handsome Little Devils in a Vaudeville-style show. Their presentation of The Squirm Burpee Circus promises to amaze with high-energy acts like The Human Cannon, The Ladder of Love and Chainsaw Juggling, not to mention classic Vaudeville comedy routines and hilarious romantic antics. Together, the cast creates a one-of-a-kind ensemble act that keeps audiences rolling in the aisles and chuckling long after the curtain has gone down. Tickets are $20 adult, $15 senior/student.
The exceptional 1924 print of the silent film Peter Pan will be shown on Friday, May 14 at 7 p.m. This whimsical J. M. Barrie story was ahead of its time when produced and stars Betty Bronson as the boy who never grew up. Part of the Rialto Theater's Silents are Golden series, Peter Pan will be accompanied by the Mont Alto Motion picture Orchestra who has masterfully been reviving the art of silent film music since 1994. The tickets are $10 each.
On Wednesday, May 26, the Rialto Theater and the City of Loveland's Visual Arts Commission will feature the dedication of Persistence of Vision by local artist Pat Kennedy. This sculpture, to be placed in front of the Rialto Theater, has been donated by the Walbye family to honor Phyllis Walbye and her commitment to the arts in Loveland. Phyllis' favorite film was Sullivan's Travels, a 1941 comedy starring Veronica Lake and Joel McCrea. Staff will offer free tours of the Rialto Theater at 5 p.m. The sculpture dedication will take place at 6 p.m. and Sullivan's Travels will begin at 7:30 p.m. Tickets are free to this event and 1920s attire optional as May 26 is the actual date of the Rialto Theater's 90th Anniversary.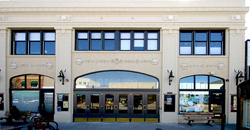 Tickets may be purchased at the Rialto Theater box office, 228 E. 4th Street in Loveland or by phone at (970) 962-2120. Box office hours are Tuesday through Friday, 12:30 to 5:30 p.m. and Saturday from 10:00 a. m. to 1:00 p.m. For more information www.cityofloveland.org.

Print This Post