By Dani White
Berthoud Recorder
There is a bold new kind of music emerging in Colorado. The Aakash Mittal Quartet, influenced by the muse of modern day India where customary meets contemporary, has fashioned a unique and worldly blend of sound. The band is an independent outfit and will soon be self-releasing their second album, "Videsh."
Mittal, the band's innovator, was born in Dallas, Texas, was raised in Loveland and is of Indian descent. The diversity of the artist's background has inspired his creative approach to music. A lifelong fascination with instruments and his father's native land of East India is reflected in Mittal's most recent composition. He suggests his ensemble is "trying to create music that goes along with the diverse culture of America and the heritage of immigration."
The word "Videsh" roughly translates to "foreign abroad." The music of the latest album illustrates Mittal's initial journey to India with a progressive fusion ranging from modern jazz to traditional Indian styles. The quartet has created a musical voyage representative of an experience in an exotic country where new world and old world unite for the first time.
"Videsh" is free flowing and continuous expression that begins with the pure timbre of a few resonating notes. The album tells a musical story interwoven with improvised instrumentals and authentic background noise – voices at the market place, traffic and a swirl of ambient sounds of daily life.
Mittal relays the sounds of flute, saxophone, clarinet and the electronically recaptured drone of a tambura gourd, as well as recordings of the natural Indian world. Matt Fuller adds guitar, Jean-Luc Davis the bass and Josh Moore completes the quartet with his drum work. A mellow and moody prelude morphs into a frenzy of sound as "Videsh" pulls listeners straight into the streets of India.
Upcoming CD Release Concert Dates:
The pioneering Aakash Mittal Quartet will be hosting several CD-release concerts for their latest album at venues in Loveland, Fort Collins and Denver in November.
Saturday, Nov. 7, at The Loveland Museum Gallery/ The Downstairs Auditorium.
Friday, Nov. 13, at Dazzle Restaurant and Lounge, Denver.
Friday, Nov. 20, at Avogadro's Number, Fort Collins.
News Image: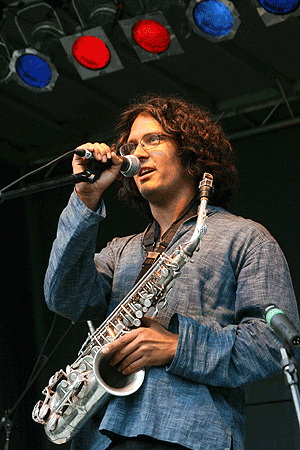 Category Lead:
Category Secondary Featured Story

Print This Post