By Thomas N.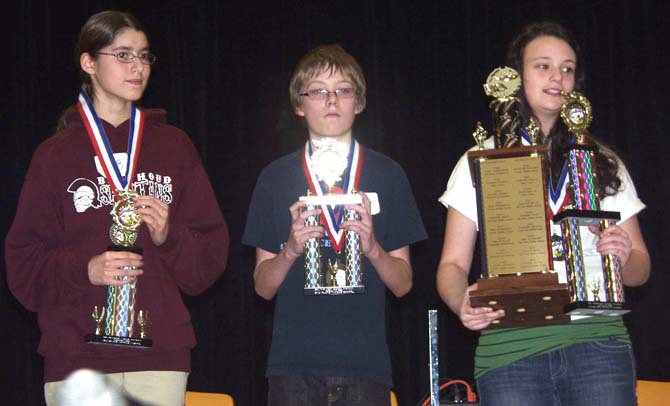 Berthoud's Turner Middle School sent four students to compete in the district spelling bee last Saturday at Walt Clark Middle School in Loveland. These students coached by Colleen Bowker, were Hannah Stippich, Karsten Bump, Ken Kubik and Olivia Conde. Three of these students placed in the top four; Hanna Stippich tied for fourth place, Olivia Conde received third place, and Ken Kubik placed second. These three top spellers of Berthoud will be competing alongside Mark Stewart from Walt Clark Middle School, Bridget Hyde representing Lucile Erwin Middle School and Rocky Eisentraut of Bill Reed Middle School at the 71st Colorado State Spelling Bee on March 19 in Denver.
Like the Elementary Spelling Bee held earlier the same day, the competition was divided into two parts; the written round where 54 students from five schools participated in a quiz on some truly difficult words. After the written round, the 16 most elite spellers of the Thompson Valley School District took the stage in an attempt of the final leg and hard road to District Spelling Champion. The oral round began as the coordinator of the bee, Royce Lowe, announced the final 16 competitors.
After a quick practice round, the real show began. Hard words were shot at the spellers like bullets. Some spelled correctly, some spelled incorrectly. The students remained well-composed and unruffled during the bullet storm of vocabulary. After just five rounds and a spell-off to determine places three through six, the dust settled and two lone students remained.
The 'Duel of Words' was hard fought in 16 rounds, where Berthoud's Ken Kubik battled Rocky Eisentraut of Bill Reed Middle School for the title of District Champion. In fact, over half of the words in the oral competition were in the multiple rounds of head-to-head standoff between Eisentraut and Kubik. After various correct and incorrect spelled words, Rocky stood alone victoriously with the winning word "widget". Miss Eisentraut stated that this was her first spelling bee competition. Her first place win is a very impressive start.
A few of the difficult spelling words: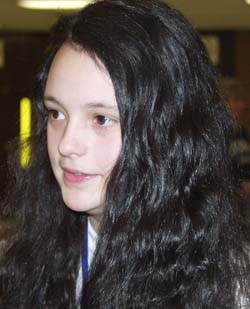 mediocre
consensus
femininity
chutney
juggernaut
boutique
flamboyant
vigilant
transient
embargo
infallible
vogue
vivacious
docile
gratuity
remuneration
taboo
illustrious
ligament
obviously
representative
negligent
compulsory
sympathy
abnormal

Print This Post