From Petit Chef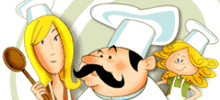 Recipe by Mele Cotte
Homemade Twinkie
1 cup cake flour
¾ cup sugar
1 tsp baking powder
3 eggs
¼ cup milk
Whisk together the dry ingredients. Add eggs and continue to whisk to combine (or use a hand or stand mixer). Add half the milk. If the batter is too thick, gradually add the rest of the milk until the batter is thick, but easily pourable. Divide batter into nine mini loaf pans.Bake in a preheated 350°F oven for 15-20 minutes, or until a toothpick comes out clean. Cool for about 10 minutes and invert onto wire cooling racks. Cool completely.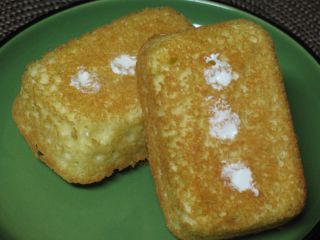 To add filling (recipe follows), fill half a pastry bag & tip with the filling. Poke each loaf three times, squeezing out icing while pulling up and out. Stop pressure prior to pulling the tip out completely. If the cream overflows a little, use a butter knife/spatula to carefully scrape off.
For filling (a slightly doctored Epicurious recipe)
½ cup unsalted butter, softened
1 cup confectioners sugar
2 cups marshmallow cream such as Marshmallow Fluff
1 teaspoon vanilla
2-3 Tbsp. milk
Beat together all the ingredients in a bowl with electric mixer at medium speed until smooth, about 3 minutes.
http://melecotte.blogspot.com/feeds/posts/default?alt=rss

Print This Post